Barbecue Fish Recipe For Monk Fish And Bacon

I was delighted when this barbecue fish recipe for monk fish and bacon was served up for me. Monk fish is such a beautiful meaty fish making it ideal for the grill.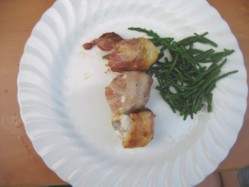 It also makes great finger food and check out how simply it is served, just a garnish of salty samphire.
The monk fish (also known as goose fish in some parts of the world) is wrapped in bacon and this makes it "eat" really well.
Plenty to bite into and the bacon adds a crispy salty exterior to a light and soft center. The other great thing about adding the bacon is that it provides a protective shell for the fish therefore you're less likely to loose your meal in the coals!
Search out air dried bacon. Steer clear of the basic stuff you get down the supermarket because it's full of water and takes ages to crisp up. Your monk fish will cook quickly and you want the bacon envelope to crisp up for added texture, air dried bacon isn't full of water and will cook and crisp up perfectly.

This barbecue fish recipe involves a simple marinade and you need to marinate for 30 mins, as well as soaking the skewers so leave a bit of time for this one. Instead of skewers, you can use a barbecue basket if you prefer, just leave a bit of space between each "cube" so that all the bacon gets cooked.
Serves:- 4 people

Preparation Time:- 15 minutes
Marinade Time:- 30 minutes
Cooking Time:- 10 minutes

Total Time:- 55 minutes
Ingredients:-
1 Monkfish tail
225g / 8oz streaky bacon (air dried)

1 garlic clove crushed
4 tablespoons olive oil
½ lemon
Method:-
Cut the monk fish tail up into 1 inch cubes. Make marinade with the olive oil, crushed garlic and lemon juice, throw the fish in and marinate for at least 30 minutes.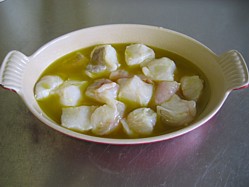 Wrap each fish cube in a piece of streaky bacon and thread it onto the skewer, work on about 3 or 4 cubes per skewer as a reasonable portion for an appetizer.
Place on the BBQ on hot coals and grill for about 10 mins until the bacon is crisp and the fish is cooked. Continue to baste with the marinade throughout the cooking process.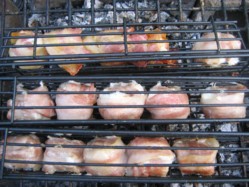 I like to serve it simply with mayo or aioli and a little samphire for garnish. Sometimes it's best just to let the natural flavors exude, why over-complicate things?
Notes: - The texture of monkfish (or goosefish) is similar to that of lobster and it used to be called the "poor mans lobster". Prior to tightening of food labeling you could also find monk fish being used as the prime ingredient in breaded scampi.
To be fair it was probably not just the change in food labeling because the cost of monk fish has gone through the roof and pound for pound it's now not far off the lobster tail cost anyway.
Pages Related To This Barbecue Fish Recipe:-
BBQ Accessories and Cooking Equipment
BBQ Grill Comparisons
Grill Islands
More Great BBQ Fish Recipes
Barbecue Grilling Tips
Barbecue Marinade Ideas


Return To Recipes Home From This Barbecue Fish Recipe For Monk Fish