Easy Grilled Sardine Recipe With Jerez

This easy grilled sardine recipe with Jerez reminds me of family holidays in Spain by the coast, picturesque fishing ports and fresh fish markets and tapas – fantastic!
This sardine recipe will make for a delightful appetizer or indeed a light snack with some salad leaves. It might look a bit bare on the plate below but this is typically how it would be served in a bar in Spain. No fancy stuff, just let the fish do the talking.
Sardines are technically young pilchards and the name can be applied to a number of other young species such as sprats and herrings. The majority are canned in olive oil or tomato sauce but when you've tasted this grilled sardine recipe I'm sure that you will conclude (just like me) that canning is such a waste.
I suffer a little from high cholesterol and one of the ways I can reduce my cholesterol is to eat oily fish like this. Let's not forget that this recipe also calls for some sherry (Jerez) and this is the most important thing to remember about sherry...particularly dry Fino sherry...once the bottle is opened, drink it within two weeks. Suddenly the thought of cooking a lot of oily fish sounds like it's going to be fun and well as healthy!
You'll need a barbecue basket to put the fish in so when you're ready remember to give it a light coating with olive oil to stop the fish sticking.

Your sardines need to be gutted and the cavity washed out, if you're not comfortable doing this, ask your fishmonger. The key to cooking barbecue fish Mediterranean style is fresh ingredients and simple sauces and this is such an easy recipe with a very simple glaze, it's just the ticket.
Serves:- 4 people

Preparation Time:- 10 minutes
Cooking Time:- 20 minutes
Total Time:- 30 minutes
Ingredients:-
16 sardines
4 tablespoons sherry
1 teaspoon honey (to provide stickiness)
salt and pepper
lemon for garnish
Method:-
Place the sardines in a barbecue basket and gently cook over medium coals, season with salt and pepper and brush on the glaze.
When cooked (which should take about 10 minutes each side) transfer to a hot plate and serve with wedges of lemon.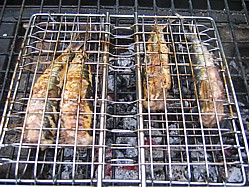 It's traditional with food in Spain to serve it all on one plate and then just let every guest stab a fish with their fork – so go with the flow and make life easy. Qué aproveche!
Pages Related To This Grilled Sardine Recipe:

Barbecue Fish Baskets
Teflon BBQ Fish Mat to Prevent Sticking
Essential Barbecue Cooking Equipment


Return to Recipes Home from Easy Grilled Sardine Recipe With Jerez