Tex Mex Barbecue Chicken Wings -
An Easy BBQ Rub
Tex Mex Barbecue Chicken Wings make perfect finger food and it's such an easy BBQ rub.
The chicken wing consists of three sections:-
The "drumette", this is the segment attached to the body of the bird and so named because it is shaped like a small drumstick. This is the segment with the most meat on it and it can have quite a bit of breast meat on it dependent on how well the chicken carcass was butchered.
The middle or flat segment, this bit contains two bones and to my mind the most succulent meat (albeit not much of it) because of a higher fat content
The tip. Not much use when grilling and it usually gets caught in the cooking grate making the wings more difficult to turn. It's best to cut these off at the preparation stage and use them for making stock.
Having said all that, there's still not a lot of meat on wings but a great deal of skin surface area by comparison so to really flavour the wings it's got to be a rub. With wings being the Tex Mex staple, it's gotta be a hot one too.
For other cuts of chicken I recommend that when using a rub you should take the skin off so that the rub has chance to penetrate the flesh of the chicken but wings are the exception. It's because wings have a high surface area in relation to the volume of meat that when eating you are more likely to get a good mouthful of crispy seasoned skin with every bit of chicken meat. So on this occasion you get to enjoy the skin too - one of the reasons why barbecue chicken wings are my favorite!
When I have a cookout, my folks can go through quite a few wings so for me the secret is wings (and lot's of 'em) and a spicy rub that you can just throw the wings in, give them a mulch around and throw them straight onto the grill.
So when I'm making the rub below it's a bit like bucket chemistry.
Yield:- ¾ cup (180g)

Preparation Time:- 10 minutes
Marinade Time:- 15 minutes
Cooking Time:- 15 minutes

Total Time:- 40 minutes

Allergens:-
If using the pure spice ingredients then to my knowledge there are no allergens in my barbecue chicken wings recipe. Note however that some spice powders use gluten based anti caking agents so always read the label on the raw ingredient.

Ingredients:-
1 tablespoon of:-
Cumin
Cayenne Pepper
Salt
2 tablespoons of:-
Dried chilli flakes
Paprika
Ground black pepper
4 tablespoons of:-
Muscovado (soft brown) sugar
Method:-
Just mix everything up together and you've got your rub.You can do it in a bowl or in a zip lock bag.

Of course, if there's too much here you can either reduce quantities to desert spoons or teaspoons or just get out that airtight container – it'll keep for the next cookout.
Dust the rub onto your chicken wings, make sure that all sides have got a good covering and then allow to stand for 15 minutes. You don't need to allow too long because the rub us only going to flavor the skin, if won't penetrate the flesh.
Grill directly over medium heat for 10 minutes turning regularly.
TIP - The sugar in the rub will drop off onto the coals and cause a flare up so it's important that your grill isn't too hot or make sure the grill height is at the maximum when you start.
The sugar will also caramelize making the skin burn easily and this is another reason to keep the cooking grate a long way from the heat. It's always better to cook then slowly at the start so that you know they are cooked through and then you can always crank up the heat / lower the grill in the final few minutes to crisp up the skin. Take a look at these barbecue chicken wings below, my wife says I burned them a bit but they still tasted hot hot hot!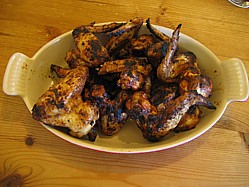 See Also:-
Lip Smackin' Barbecue Rubs
Barbecue Grilled Chicken With Lemon And Basil
Turkish Style Grilled Chicken Thighs
KFC Grilled Chicken
More Tasty Barbecue Chicken Recipes