Easy Barbecue Grilled Chicken Recipe
I love barbecue grilled chicken when the bird has been spatchcocked. No don't switch off, to spatchcock a chicken is really simple and once you've done it once, it'll come naturally. If you don't want to do it yourself then your butcher will do it for you but if you're up to give it a try the use this link how to spatchcock chicken.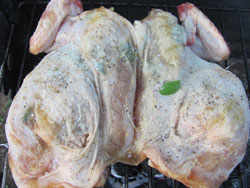 Why spatchcock?
Because the chicken cooks that much faster and the inside of the cavity is just as well cooked as the breast therefore ensuring that it's safe to eat and succulent too.
Meat cooked on the bone has more flavour and juiciness.
It's not mandatory but placing your spatchcocked chicken in a barbecue basket makes cooking and turning your barbecue grilled chicken really easy too.
This style of cooking is really suited to open lid / no lid grilling, juices dripping down onto the coals putting a light smoke aroma into the air and a chilled glass of wine. Just beware, the aromas coming off this recipe will have your neighbours round in a flash!

There's a lovely grilled chicken marinade recipe to accompany this cookout and it's packed with the citric influences of Southern Italy. For your convenience I've listed the marinade ingredients below.
Serves:- 4 people

Preparation Time:- 20 minutes
Cooking Time:- 45 minutes

Total Time:- 1 hour 5 minutes

Ingredients:-
One chicken (spatchcock)
Zest of one lemon (or half an Amalfi lemon!)
Juice of the lemon
1 clove garlic (crushed)
1 tablespoon ripped basil leaves
1 tablespoon extra virgin olive oil
Salt and freshly ground black pepper
Method:-
Release the skin from the flesh of the chicken by carefully placing your hand under the skin. Mix all the marinade ingredients together and spoon them under the skin of the chicken and you're ready for the grill.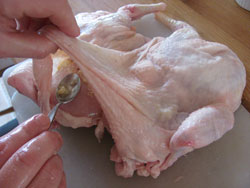 Lay the chicken on the grill skin side up over medium heat for 25 minutes or so and season the skin with a little more salt and pepper.
It's best to cook skin side up to start with for two reasons:-
Less fat drips onto the coals when they are fresh so less chance of a flare up.
When you turn over to skin side down you have more flexibility with cooking time because the skin protects the moisture in the meat. This might sound unimportant but it gives you a hot hold time for appetisers or an extra glass of wine!

So once the underside is cooked, turn the bird over and cook for a further 20 minutes until the skin is brown and crispy.
I'm a little unceremonious when it comes to carving a spatchcock chicken. Through the cooking process the bones become brittle and really easy to break so I just get a heavy knife and quarter it giving you two leg portions and two breast portions.
See Also:-
More Barbecue Chicken
Smoked Spatchcock Chicken
Turkish Style Grilled Chicken Thighs


Return to Gas Grill Recipes from Easy Barbecue Grilled Chicken Recipe