Grilled Chicken Thighs Turkish Style
It's a superb Turkish style marinade that brings these grilled chicken thighs to life. If you can prepare a day in advance, cover and marinade in the refrigerator overnight you won't be disappointed.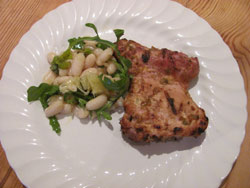 Turkey sits both in Europe and Asia and so has a wonderful cosmopolitan culture. You'll find Mediterranean influences sitting side by side with the spices of the orient and this recipe captures that cultural fusion beautifully.
This is a yogurt based marinade which has a different science behind it compared to other barbecue marinades so on this occasion an overnight marinade is perfectly acceptable.
When marinading chicken, always remove the skin otherwise the marinade won't be able to permeate the flesh. For this reason I always like to use skinless, boneless thighs and being boneless makes the end result that much easier to eat.
You can serve your chicken thighs in a pitta bread with a few sprigs of fresh coriander and cucumber raita or do as I have and accompany them with a cannellini bean salad.
Serves:- 8 people

Preparation Time:- 15 minutes
Marinade Time:- 3 hours
Cooking Time:- 20 minutes

Total Time:- 3 hours 35 minutes

Ingredients:-
8 chicken thighs, bone & skin removed
240ml or 1 cup plain yogurt
Juice of one lemon
2 cloves garlic, crushed
1 inch cube fresh ginger, crushed to release the juice (discard the pulp)
2 teaspoons hot paprika
2 teaspoon fresh chopped mint
½ teaspoon salt

Method:-
Make up the marinade by adding all the ingredients (other than the chicken and yogurt) into a non-metallic marinade bowl and mix well. Now pour in the yogurt and stir everything together, when the color is uniform add your chicken thighs and leave them to marinade for a minimum of 3 hours.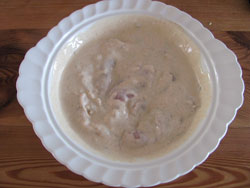 While the chicken is in the marinade it's the perfect time to prepare your salad and accompaniments.

When you're ready to cook, take the chicken thighs out of the marinade, scrape off any surplus and pat dry with kitchen towel. This will ensure that the surface of the chicken crisps up when cooked and seals in the juices. If you leave too much yogurt on the outside you'll get a mushy texture which is not desirable.

Use a medium hot grill and cook the chicken thighs for approximately 10 minutes on each side. Discard the remains of the marinade.
The chicken is cooked when you reach an internal temperature of 75°C or 170°F (use an instant read temperature probe to check) and when done set to one side for a couple of minutes.
Now is the time to warm through your pitta breads over the remains of the heat. Give the breads a minute on each side just to warm them through, remove them from the heat and slice on one side to create a pocket - take care when doing this because you sometimes get a blast of steam coming out of the bread which can easily scold your hand.
Fill the pitta with salad, chopped up pieces of the grilled chicken thighs and top off with raita.

See Also:-
Grilled Chicken Kiev
KFC Grilled Chicken
Yakitori Barbecue Chicken Recipe
BBQ Tandoori Chicken
Chicken Tikka Kabobs
Fennel Grilled Chicken Wings


Return to Recipes Home from Turkish Style Grilled Chicken Thighs