KFC Grilled Chicken Recipe
The original KFC grilled chicken recipe, just like the Kentucky fried spice mix is a closely guarded secret and I'm not claiming to have seen, copied or stolen the original. I just thought I'd give it a go and I'll let you be the judge of how close I've got.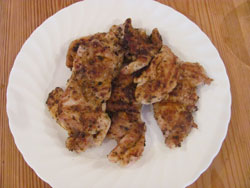 To be clear I'm not a fan of fast food, in fact I go out of my way to avoid it. If publishing this recipe stops one person from lining the pockets of the "corporate junk-masters" then I'll consider it job done.
The herb and spice mix that I've worked together inevitably will have a different flavor because we're using fresh ingredients and won't be adding stabilizers or flavor enhancers such as MSG.
I like to use boned chicken thighs because I think that they are the most succulent, they also go well in a bun with a salad and dollop of ketchup! By all means use breast fillet, whichever you go for just ensure that you take the skin off otherwise the rub won't be able to penetrate the meat.

So what we've got (whether it hits the KFC taste or not) is a great spice mix for grilled chicken. Try it out, see what you think, I'd really like to know if you think we've come close or maybe even one step better!

Serves:- 4 people

Preparation Time:- 15 minutes
Cooking Time:- 20 minutes

Total Time:- 35 minutes

Allergens:
It's all dried spices in the mix so there should be no allergens but always check the labels because some spice producers add small amounts of flour as an anti caking agent and flour contains gluten.

Ingredients:-
4 chicken pieces skinned and (preferably) boned.
2 tablespoons cooking oil

For the spice mix:-

1 teaspoon paprika
1 teaspoon dried oregano
1 teaspoon dried sage
1 teaspoon dried basil
1 teaspoon dried marjoram
1 teaspoon pepper
1 teaspoons salt
1 teaspoon onion salt
1 teaspoon garlic salt
Method:-
Mix up all the ingredients for the rub in a bowl and pour the 2 tablespoons of oil in a saucer. Place a chicken thigh in the oil to lightly coat it then sprinkle the spice mix over the chicken.
Let it soak in for a couple of minutes and then you are ready for the grill.
Lay each thigh onto a hot grill and cook for about 10 minutes on each side turning with tongs at the half way point.
Look for an internal temperature reading of 180°F or 82.2°C to double check that your chicken is cooked through.
Does it taste like the real KFC grilled chicken? I think it's pretty close.

See Also:-
More Barbecue Chicken Recipes

Grilled Chicken Marinades

Barbecue Rub Recipes