Grilled Chicken Marinades Don't Come Any Quicker Than This One
I've got four grilled chicken marinades for your to try, each with their own distinctive origins and flavour infusion.

The first two marinades rely on acidity to work their magic while the Turkish marinade is rich in calcium. To learn more on this point read my article about the science of marinades.

---
Classic Italian Marinade

It's actually a Southern Italian marinade. My family and I visited Amalfi, not just famous for its dramatic coastline but also for its lemons and I have to say that I haven't seen lemons this large on the supermarket shelves where I live!
This grilled chicken marinade is simple to prepare and doesn't need much marinade time if you put it under the skin of the chicken. If you are going to use it on breast or thighs then take the skin off but either way 30 minutes is enough because acid based marinades actually reverse their tenderizing action if the meat is left too long in them.

The mix doesn't make up a great deal of marinade but there's enough to stuff under the skin of a whole chicken or 2 large breasts or 4 thighs.
Yield:- 2 tablespoons

Preparation Time:- 10 minutes
Marinade Time:- 30 minutes
Cooking Time:- n/a

Total Time:- 40 minutes
Allergens:
Assuming you stick to the brief and use a lemon then there are no allergens in this recipe.

Ingredients:-
Zest of one lemon (or half an Amalfi lemon!)
Juice of the lemon
1 clove garlic (crushed)
1 tablespoon ripped basil leaves
1 tablespoon extra virgin olive oil
Salt and freshly ground black pepper
Method:-
Mix all the ingredients together and the marinade is done.
You can either add boneless, skinless chicken pieces as described about and marinate for 30 minutes or apply under the skin of a spatchcocked chicken.
Note: - Even though you have ripped the basil (rather than chopping it) you will still find that it will wilt and darken in color during the marinade process. Don't chop it otherwise it will turn black and lose its texture very quickly.
Click here to learn how to spatchcock chicken
---
Garlic Grilled Chicken Marinade

This has to be the quickest of grilled chicken marinades because the chicken doesn't actually have to soak up the marinade. I've put it under the skin of the chicken and that way all the flavors come together during the cooking process.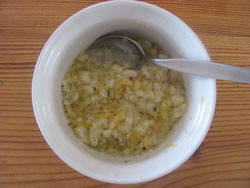 What really sold this marinade to me was not only the flavor but the smell... full on garlic! As with the recipe above I cooked the chicken as a spatchcock and so the inside of the bird was grilled first – no big deal, just the normal.
Then I turned the chicken over to grill the skin side and "whoa!" the smoke was so fragrant and packed with garlic it was difficult to wait the 25 minutes to finish it off.
I haven't made a mistake with my mathematics below. There's 10 minutes to prepare the marinade and a further 10 to apply it, that's why I have a total time of 20 minutes.
Yield:- 1 tablespoon

Preparation Time:- 10 minutes
Marinade Time:- n/a
Cooking Time:- n/a

Total Time:- 20 minutes

Allergens:
Again all fresh ingredients in this grilled chicken marinade so no allergens here.

Ingredients:-
6 cloves garlic
Zest and juice of 1 lemon
1 tablespoon olive oil
Salt and pepper
Method:-
Peel and crush the garlic into a small bowl and add the lemon zest and juice. Now add a tablespoon of olive oil and stir it all up with a teaspoon.
Check this page for how to spatchcock chicken
Get your hands gently under the skin of the bird and separate the skin from the flesh of the breast and legs (you'll struggle to do the wings). Using a spoon, apply the marinade to the flesh under the skin and then replace the skin.
Now you're ready to grill although you can leave the chicken a few minutes to let some of the lemon juice dry off.
Depending on size, a spatchcock chicken will take approximately 20 – 25 minutes on each side.
---
Turkish Marinade For Grilled Chicken

This Turkish style grilled chicken marinade recipe has yogurt as its base and generally that means that the best results will be achieved with as long a marinade as possible. For me, it's a minimum of 6 hours and if you can, prepare the day before and marinate overnight.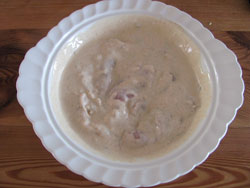 TIP - As you add each piece of chicken, move it around a bit to ensure that it's properly coated. Likewise, give the marinade a stir every hour or so.
Yield:- 1 cup or 240ml

Preparation Time:- 15 minutes
Marinade Time:- 6 hours
Cooking Time:- n/a

Total Time:- 6 hours 15 minutes
Allergens:
No allergens in this recipe unless using lemon juice from a bottle because there usually will be a sulphite preservative in there.

Ingredients:-
8 chicken thighs, bone & skin removed
240ml or 1 cup plain yogurt
Juice of one lemon
2 cloves garlic, crushed
1 inch cube fresh ginger, peeled & crushed to release the juice
2 teaspoons hot paprika
2 teaspoon fresh chopped mint
½ teaspoon salt
Method:-
Start with the ginger because this could get messy! When you've peeled it, roughly chop it up and then place it in the garlic crusher. Now squeeze (GENTLY!) and get the juice out into your marinade bowl – if you're too vigorous you'll end up with juice all over the kitchen. Discard the dry pulp that's left in the garlic crusher.
Now add all the other ingredients (except for the yogurt), mix thoroughly, then add the yogurt and stir until you have a well mixed marinade.
Now it's time to add your chicken, cover and refrigerate for the first 4 hours then remove it 2 hours prior to grilling. This is just so the meat can get back up to room temperature for cooking. By doing this you ensure a much more even cooking process.
Scrape off any excess yogurt (otherwise you'll end up with a soggy exterior) and then throw the chicken pieces onto a nice hot grill! Each thigh will need about 7-8 minutes on each side to cook through.
---
Thai Sweet Chili Marinade For Grilled Chicken
This sweet chili marinade for grilled chicken will spice up your life. All the influences come from what I would describe as typically Thai sourced ingredients and that means sweet with a good chilli kick.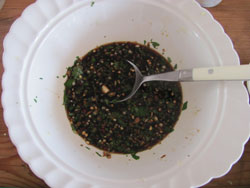 There's the sweetness from the sugar, saltiness from the soy and Thai fish sauce, all rounded off with a bit of chilli heat. For Oriental flavor this is the marinade for grilled chicken that I just can't get enough of.
My favorite for this marinade is chicken thigh, skinned and boned, I marinate for an hour but you can do longer if you wish. The longer you marinate the deeper the colour but it's arguable whether there's any extra flavour or tenderness.

If you have any fresh coriander left over after making the marinade, put it to one side and use it as garnish for the finished dish.
Yield:- ½ cup or 110ml

Preparation Time:- 15 minutes
Marinade Time:- 1 hour
Cooking Time:- 20 minutes (for chicken thighs)

Total Time:- 1 hour 35 minutes
Allergens:
Alas the are allergens in abundance in my Thai marinade for grilled chicken.
Soy sauce (soya and gluten)
Thai fish sauce (fish)
Ingredients:-
1 chopped lemon-grass stalk
1 tablespoon chopped fresh coriander
1 inch cube ginger crushed
2 cloves garlic, crushed
1 red chili, chopped (with seeds)
2 tablespoons soy sauce
2 tablespoons Thai fish sauce
1 tablespoon sherry
1 tablespoon sugar
Method:-
Not much to it really other than one piece of advice I have for you about the ginger. First of all peel it, then roughly cut up your 1 inch cube and squeeze gently in a garlic crusher – I say gently because if you're too aggressive it'll end up all over the place. All you need in your marinade bowl is the juice and any flesh that comes through the crusher (discard the dry pulp that remains in the crusher).
After that it's just a matter of adding all the other ingredients, giving it a stir and then it's ready for your chicken. (As I said earlier I like to use either boneless thigh or you can use breast if you prefer. Whichever suits, just make sure that the skin is removed).
Throw in your chicken and marinade for at least an hour. You can also brush the surplus marinade on the chicken during the cookout.
Note: - If marinating for an hour you won't need to refrigerate but please do so if you choose to marinate for longer. Ensure that your meat is back up at room temperature when you are ready to grill because this allows for a more even cooking.
See Also:-
More Barbecue Marinades
Grilled Chicken Recipes