Smoked Spatchcock Chicken Recipe
What makes the smoked spatchcock chicken recipe special is the basting sauce that goes over it during the cooking process.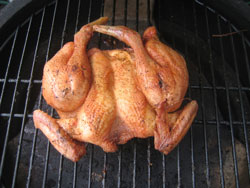 If you're already feeling perplexed or nervous about how to spatchcock chicken don't be. All you need is a sharp knife and my step by step guide. It's really easy and once you've done it for the first time, you'll be doing it for ever more.
The cooking stage in this recipe is a two step process so you'll need access to both indirect and direct heat:
Indirect cooking to add smoky flavour
Direct cooking to crisp up the skin
The sauce for this smoked spatchcock chicken recipe is really easy too in fact you can prepare the chicken and the sauce in the time it'll take for your smoker to warm up.
It's an apple vinegar sauce that's sweetened with sugar, a perfect combination for chicken.
Serves:- 4 people

Preparation Time:- 20 minutes
Cooking Time:- 4 hours

Total Time:- 4 hours

Ingredients:-
One chicken "spatchcocked"
350ml or ¾ pint Apple Cider Vinegar
1 tablespoon freshly ground black pepper
1 tablespoon salt
1 tablespoon brown sugar
½ tablespoon cayenne pepper
Method:-
Throw all of the ingredients (not the chicken!) into a saucepan and stir. Heat gently to ensure that all the sugar and salt has dissolved and then allow to cool.
Prepare your smoker for indirect cooking at approximately 110ºC or 225ºF and lay your chicken on the cooking grate skin side up with a drip tray underneath.
Smoke gently for about 3 hours with apple wood chips and liberally spoon on the basting sauce every 30 minutes of so.
Now pour a beer and relax!
When 3 hours is up, set yourself up for direct cooking and place the chicken skin side down over direct heat for 30 minutes.

Note:- Whist the chicken is actually cooked after 3 hours, this smoked spatchcock chicken recipe will only produce crispy skin if you follow this final step and grill it for 30 minutes skin side down at the end of the smoking process.
When it comes to serving a spatchcocked chicken it may take you a little time to find out where the bones are so that you can joint it properly. For me the easiest way is either to let it cool a little and then rip it apart or just take a heavy sharp knife and quarter it - the cooked breast bone will be quite brittle so this is easy to do.
---
How To Spatchcock Chicken

Learning how to spatchcock chicken isn't difficult provided you have a chicken and a sharp knife. Not only is preparing spatchcock chicken easy but it also makes cooking a whole chicken easy too, especially if you're grilling it.
First take your chicken and remove the giblets. If your chicken is prepacked and straight out of the refrigerator then the next thing you need to do is make it dance.
Hold it upright by the wings and give it a shake, next turn it onto its neck, hold it by the legs and do the same again. Feel how the joints of the chicken loosen up - this helps with any jointing of a chicken, not just spatchcocking.
Now stand the chicken on its neck with the backbone facing towards you and using the sharp knife cut down one side of the backbone and then down the other so you have now removed the backbone.
Place the chicken skin side down on the board and take a look at the breast bone (it's actually called the keel bone) and at the top (neck end) you'll see a circular piece of white bone - you can see my finger pointing to it below.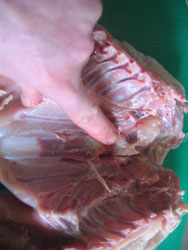 Make a vertical cut through the center of this bone then insert your thumbs into the gap, push up with your fingers from the other side and you'll see the keel bone popping out.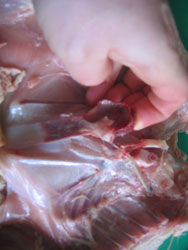 Give it a bit of a wiggle, tear it away from the flesh and there you have it a perfectly prepared spatchcock chicken ready for the grill or smoker.
Removing the keel bone isn't essential but it does help keep the bird flat on the grill and it's one less bone to worry about when you are carving.
The final step is to remove the ankle joint, again not essential but it makes the drumstick look more appealing. Just take your knife and cut across the middle of the ankle joint, you should hit the gap between the two bones and slice through easily.
For perfect presentation, make a couple on incisions in the breast skin right by the base of the drumstick and tuck the drumstick through.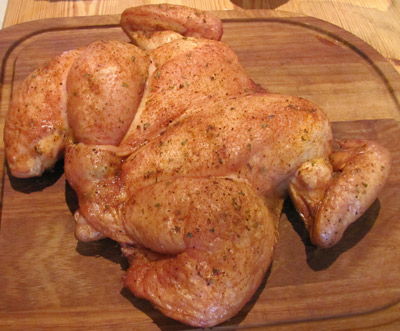 And that's how to spatchcock chicken. You can now apply a rub or simply follow the smoked spatchcock chicken recipe above or try my easy barbecue grilled chicken recipe. For easy turning use a barbecue basket.
See Also:-
More BBQ Chicken Recipes