Whether it's chicken drumsticks, thighs or wings, the subtle taste of aniseed that comes with my fennel BBQ rub really makes it worth a try.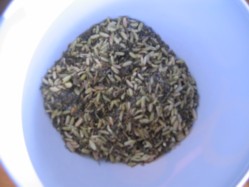 OK, so the picture doesn't look great but just wait til you taste it!
The inspiration for this rub came from a visit to a Tasca in a small ski resort in the Spanish Pyrenees, as with many rubs, it's really easy to make yet adds a completely different complexion to your barbecue grill.
I first tasted it on grilled chicken wings and click on this link if you want the full fennel grilled chicken wings recipe otherwise the try it on whatever you're grilling tonight.
If you do choose to use it on chicken pieces then don't feel that you have to skin the pieces first, in my view this works better with the skin on.It goes against the grain of everything that I normally recommend for a rub but I just prefer it this way.

You can make up as much as you want just keep the ratio of the mix the same and you can't go far wrong.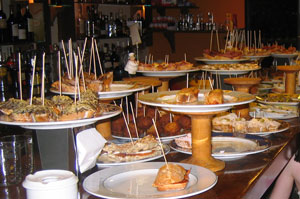 Observe the sticks in all the food. The tradition in a typical Spanish tapas bar is the take what you want and hold onto the sticks. When you're done and ready to pay the bar tender will count up the number of sticks and charge you accordingly.
Note: This is the case in the majority of Spain. In Andalucia however, (the home of tapas) you'll still find bars where the tapa is included in the price of the drink.

Yield:- ⅓ cup or 75g

Preparation Time:- 10 minutes
Cooking Time:- n/a

Total Time:- 10 minutes
Allergens:
It's just pure raw ingredients all the way in my fennel BBQ rub so not an allergen in sight.

Ingredients:-
2 tablespoons fennel seeds
2 tablespoons dried thyme
1 tablespoon sea salt
Method:-
Mix the fennel seeds and salt in a pestle and mortar gently grind the seeds up – the coarse ground sea salt helps break open the fennel seeds and that's all you want, you're not looking to create a fine powder so don't go overboard on the grinding.
Now throw in the dried thyme and that's it, job done, you're ready to go.
TIP - Before applying in the rub, drizzle a little olive oil onto the meat to help it stick.
If you can, give the rub 30 minutes to really get into the flesh of the meat and then it's time to grill.
See Also:-
More Tasty Chicken Recipes
Barbecue Rubs
Tapas Appetizers Ideal For Grilling