Healthy Barbecue Dry Rub Recipe For Chicken

This healthy barbecue dry rub recipe is ideal for skinless chicken breast, it adds instant flavor and can be prepared in seconds.
It doesn't get much simpler than this when it comes to creating that really tasty barbecue chicken. A completely dry mix so you can easy make it up and store it in an airtight jar ready for next time.
You can see from the picture that I always like to take the skin off my chicken breast before adding the rub. In one way it's a shame because I really do love crispy chicken skin but if you rub the skin then none of the flavor penetrates into the meat.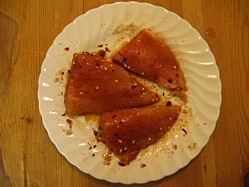 Not to be outdone by this conundrum, don't throw away the chicken skin, season it with salt and pepper and slap it on the grill to crisp up on its own - naughty, but soooo lovely!
Note:- As a general rule for chicken, if you're going to use a rub it's best to take the skin off unless you're doing chicken wings.

Back to the rub, use a teaspoon as your measure for your first mix and see if you like it, just throw all the ingredients in a pot and you're done. It is quite a spicy little number and might just blow your socks off!
Given the level of spice feel free to play around with the quantity of cayenne or add a few less chili flakes. Both cayenne and chilli flakes are pure chilli spices and that means heat so beware, this is a hot one.

Once you've got a small quantity to your liking, multiply up to tablespoons, store in an airtight container and you've got a ready made rub whenever you want it.
Yield:- 7 teaspoons

Preparation Time:- 5 minutes
Marinade Time:- 30 minutes
Cooking Time:- 10 minutes

Total Time:- 45 minutes

Ingredients:-
1 tsp of:-
2 tsp of:-
Dried chilli flakes
Paprika
Ground black pepper
4tsp of:-
Muscovado (soft brown) sugar
Method:-
Once everything is mixed together, just rub it all over your chicken and let it rest for about 30 minutes so that the rub can penetrate the flesh. Slap the chicken on a medium hot grill for 10 minutes (turning after 5) and you'll have a spiced chicken to die for.
Slice it, add it to a salad, roll it in a wrap or simply make a spiced chicken sandwich. You choose.
And don't stop there, this healthy barbecue dry rub recipe works well on other meats too so if you have made up a quantity, just break it out whenever you want. Rub it into your meat before grilling and take it away!
Related Pages:-
Succulent Barbecue Chicken Recipes


More Healthy Barbecue Recipes
Tasty Barbecue Rubs