Barbecue Grilled Hamburger Recipes
There's loads of barbecue grilled hamburger recipes using different meats with a variety of tasty ingredients and everybody loves a burger, right?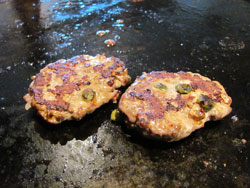 I used to think that anyone who produced sausages and burgers at a barbecue was completely lacking in imagination but now that I've started to make my own burgers, it's time to revise that opinion.
A burger is so easy to make there's absolutely no excuse for not making your own, after all, they're cheaper too. What's the difference between going down the supermarket and picking up a pack of ground meat rather than a pre-formed hamburger? Nothing, other than the quality of the meat.
Because that's all there is to a basic burger, just add salt and pepper and form it into that distinctive shape. At least doing it this way, you know exactly what you're eating. If you knew what parts of the animal go into preformed burgers.........well it would put you off eating one ever again!
You can buy burger shaping tools and these do make your burgers nicely rounded but you really don't need to be that precise. I'm not, because it doesn't make a jot of difference to the flavor.
Once you've made the basic hamburger, the world's your oyster. Play around with different spices what about different meats? To set you off, here are some of my favorite recipes for barbecue grilled hamburger.
Tips For All Barbecue Hamburger Recipes - together with the basic mix.
Easy BBQ Hamburgers - Another basic mix that will season your burger making skills.
Gourmet Grilled Hamburger Recipe - Ground steak in this one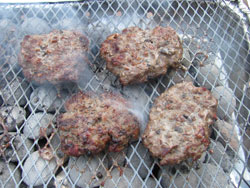 Plank Cooked Hamburgers - Check out this recipe even if you are not plank cooking them.
Grilled Venison Burgers - With redcurrant jelly
Pork And Apple BBQ Hamburger Recipe - A lovely fruity taste
Grilled Burger Recipes With Lamb - And feta cheese
Burger And Fries - On The Big Green Egg
Vegetarian Barbecue Option - Potato And Feta Burgers
Indian Grilled Turkey Burgers - With traditional Madras curry spices and fresh coriander.
Mexican Grilled Turkey Burger Recipe - Slap on the Guacamole!
Bacon And Mushroom Barbecue Hamburger Recipe - Nicely spiced up with mushroom ketchup.
If you have a burger recipe that you'd like to share with us then you can let us know by entering the barbecue competition. Don't worry, it's just for fun and your prize is to have your name credited to your recipe for the whole world to see.
Here's one that James Harbaugh sent in:-
Turtle Burgers - and no, they're not real turtles!
Also check out this one from Dean. Could this be one of the best hamburger recipes for the grill?
Return to Gas Grill Recipes from Barbecue Grilled Hamburger Recipes