The Best Grilled Hamburger Recipe Bar None!

This has to be the best grilled hamburger recipe ever and it all came about more or less by accident.
My daughters had been nagging at me to prepare them a steak tartare for a number of weeks so yesterday I went to my local butcher for some grade A steak which I took home and ground up.
Note:- Being a professional caterer I'm happy to prepare and serve raw meat but there are many who say you shouldn't make it a home. Here's one article I found amusing whilst still treating the subject seriously.

Anyway I dutifully prepared the evening meal with a side of fries and being the carnivores that they are, my daughters absolutely loved it but as usual I'd bought way too much meat for the four of us.
I'd already mixed it up so what to do with it? It was then that the idea of grilled hamburgers came to mind. After all, when you go to a burger bar there's always a pickle on it and one of the key ingredients to steak tartare is pickled capers so this could be a great combination.
So for the best grilled hamburger recipe you've got to use the finest ingredients and it was an absolute hit. We now make this recipe just for the burger, forget the steak tartare.
Note:- The original steak tartare recipe had an egg yolk in it but when it comes to any grilled hamburger recipe I prefer not to use egg to bind the pattie. For more information on this and all my other tips for making the perfect hamburger, click here.

Serves:- 4 people with a nice ¼ pounder
Preparation Time:- 20 mins

Cooking Time:- 10 to 15 minutes
Total Time:- 35 minutes
Ingredients:-
500g or 1lb ground steak
1 shallot finely chopped
1 tablespoon chopped capers
1 teaspoon Dijon mustard
Brandy
Tabasco
Salt and pepper
Method:-
Throw everything into a mixing bowl with a good lug of brandy and a shake of Tabasco to your taste. Get your hands in there and mulch around until it's thoroughly mixed.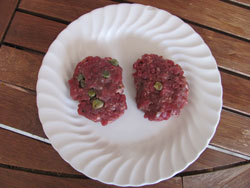 Form your patties and refrigerate for a couple of hours to let them set and dry out, then remove them from the refrigerator and give them an hour to get back up to room temperature. Now you can grill to your taste.
On the open grill I like to do mine for about 5 to 10 minutes on each side depending on thickness. From a safety point of view remember that the internal color of a burger is not a good enough indicator of doneness. To be absolutely sure, use a BBQ thermometer probe and check for a temperature of 160°F.
The choice of sauce is up to you but my favorite for this is Alabama white barbecue sauce.
Pages Related To This Grilled Hamburger Recipe:-

BBQ Beef Hamburger Kamado Style
Plank Cooked Hamburgers
Pork And Apple Burgers
Grilled Venison Burgers With Redcurrant Jelly


Return to Recipes Home from The Best Grilled Hamburger Recipe