BBQ Hamburger Recipes For Pork
My two BBQ hamburger recipes for pork feature classic flavour combinations:-

Pork And Wild Garlic (Ramps)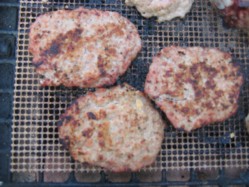 Before going into the detail of my BBQ hamburger recipes for pork, make sure that you've read my essential guide to burger making.

Pork And Apple Burger

Apple sauce has been a classic accompaniment to pork so why not combine the two flavors into one big burger? I like to make a little apple sauce as well to add to the burger rather than ketchup – try it, see what you think.
The flesh of the apple will quickly go brown during the preparation process but don't worry, it's going to be mixed in with the pork mince and you'll never notice the discoloration so relax, no pressure.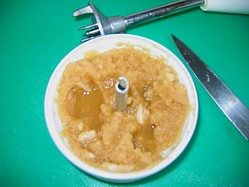 Serves:- 4 people

Preparation Time:- 20 minutes
Cooking Time:- 15 minutes
Total Time:- 35 minutes
Ingredients:-
450g or 1lb ground pork (70% lean pork : 30% pork fat)

2 apples
salt and freshly ground black pepper
Method:-
Peel and core the apples, place them in a food processor and blitz until the flesh is thoroughly "mushed".
Tip the apple into a mixing bowl, add the ground pork and season well.
Now it's time to get really stuck in with the hands and give the mix a really good "mulch" around and when complete start to make up the burgers.
For the cookout you need medium coals for the barbecue grill, a flip every now and then will ensure an even cooking in about 10-15 minutes. Don't use the back of the spatula to press your burger into the cooking grate, all this will do is squeeze out the moisture and dry it out.
Note that I have used a Teflon® barbecue mat to cook on, this just makes it easier to flip the burgers because nothing sticks to the grate.
Pork And Wild Garlic (Ramps)

BBQ hamburger recipes for pork don't come much better than this. The starting point for my recipe was when I was trying to make my own Toulouse sausage and I made made some burgers out of the leftover sausage meat. Following a little refinement, this recipe was born.
Rather than using bulb garlic I've chosen to add wild garlic because it's a more subtle flavour when cooked and it also adds a nice green colour to the pattie.
Wild garlic (Allium ursinum) also called "ramps" is considered a weed by most gardeners because it spreads rapidly so introduce it as a plant in your herb garden at your peril. It's the green leaves that you use so you just pick the leaves, there's no digging.
Pick it fresh and it will keep in the refrigerator for a week. You can use it as another leaf in a green salad or add it to a risotto or an omelette.
The best is to forage for it. It grows in damp woodland conditions, often near bluebells. It does however grow near other non edible plants so it's always best to double check you've got the right plant so take a leaf, scrunch it up in your hand and you'll know when you've found wild garlic simply by the garlic aroma.

I get mine from the banks of the River Ribble (you can harvest it between the months of March and June), wash it and then freeze it in small pouches to use in recipes throughout the year. This burger recipe and my homemade sausage recipe being the big ones.
Serves:- 4 people

Preparation Time:- 20 minutes
Cooking Time:- 15 minutes
Total Time:- 35 minutes
Ingredients:-
450g or 1lb ground pork (70% lean pork : 30% pork fat)

1 onion finely chopped

25g or 1oz bacon (ground or finely chopped)
10g or

½oz wild garlic leaves

finely chopped



5g salt (1 teaspoon)

2g white pepper (

½

teaspoon)
pinch of dried thyme
pinch of nutmeg

Method:-
It's as simple as tipping all the ingredients into a mixing bowl and giving it a good much round.

10 - 15 minutes on the grill should see you with a burger to die for.
Note: Cooking time is dependent on the thickness of your pork burgers so use an instant read BBQ thermometer to check that you've reached the correct core temperature and your burger is safe to eat.

Pages Related To Pork BBQ Hamburger Recipes:-

My Best Grilled Hamburger Recipe
Grilled Venison Burgers With Redcurrant Jelly
Tailgating Recipe Ideas
Information about Teflon® barbecue mats
Feta Cheese and Potato Burgers