Grilled Turkey Burgers Recipe

Below are two great grilled turkey burgers recipes, both with a spicy kick.

Indian Spiced Grilled Turkey Burgers
Holy Guacamole Mexican Turkey Burgers
Before moving to the recipe there are a couple of essentials to take care of:
Turkey is a lean meat and a burger needs a good proportion of fat (or other moisture sources) to keep it juicy and you can achieve this in a number of ways:
Use leg meat and grind the skin into the mix. Despite turkey being lean, the legs have a little fat on them. Buying ready ground leg meat isn't easy so you're going to have to smile nicely at your butcher or do it yourself. 
Add onions to the mix as I've done in the Indian recipe below
Add extra fat, this could be ground pork fat or another fatty ingredient such as the re-fried beans that I've used in the Mexican grilled turkey burgers.
The other essential points to cover before you start making patties are detailed in my essential burger making guide.

Indian Grilled Turkey Burgers

The foundation for these Indian grilled turkey burgers is a simple spice mix that would normally be included in a Madras curry recipe. Madras is one of the hotter curries and only slightly more mild than a vindaloo so if you like it spicy, you won't be disappointed.
Because turkey is such a lean meat you'll need a little oil to brush over the grill plates or grill pan prior to putting the burgers on otherwise they may stick.

There's enough here to make four quarter pounders but I prefer to make them smaller and thinner so they cook through that much more quickly and the meat stays moist.
There's an egg yolk in these Indian grilled turkey burgers too, principally there to bind everything together. It's a fact that the addition of an egg does tend to make the burger more firm but because these burgers are going to be quite thin (and ground turkey is quite a mushy meat) I think it a worthwhile ingredient to add. If making a big juicy burger from ground beef for example, then I wouldn't add the yolk.
Serves:- 4 people

Preparation Time:- 15 minutes
Cooking Time:- 15 minutes
Total Time:- 30 minutes
Ingredients:-
450g or 1lb ground turkey
½ onion, finely chopped and preferably grated.
1 clove garlic, crushed
½ teaspoon coriander
½ teaspoon cumin
½ teaspoon garam masala
½ teaspoon chilli powder
handful chopped coriander
1 egg yolk
salt and pepper
salad and mango chutney sauce
Method:-
Break out your mixing bowl and throw in the ground turkey, grated onion, garlic, fresh coriander, spices and egg yolk. Season with salt and pepper and then get your hands in there to mix everything up.
Form your patties making sure that they are as flat as possible and a little thinner in the middle than the outside because when you grill the meat will contract so doing it this way means that the burger will contract to its desired shape rather than into something that more resembles a meatball.
Over a hot grill, give the burgers about 6-7 minutes on each side (and don't forget to toast the inside of your burger buns). Build up your burger on a bed of salad but hold off on the ketchup, try mango chutney sauce, you won't be disappointed.
Below is a short video that I made of this particular recipe so if you prefer to follow the method that way then check it out.
Mexican Grilled Turkey Burgers

In this recipe the re-fried beans really help bind everything together and for simplicity, I've used pickled Jalapeno from a jar and chopped them but you can use fresh if they're readily available. 1 or 2 chillis should do the trick but feel free to add more if you like it hotter. Note that there's no egg yolk in this mix, the re-fried beans do the job that the egg yolk would.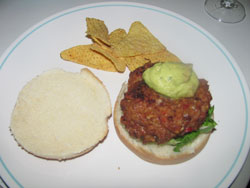 There's enough here to make four quarter pounders and then some.
Serves:- 4 people

Preparation Time:- 15 minutes
Cooking Time:- 15 minutes
Total Time:- 30 minutes
Ingredients:-
450g or 1lb ground turkey leg

200g or 7oz can of re-fried beans
3 crushed garlic cloves
1 tablespoon Jalapeno chillis chopped
2 tablespoons tomato pur

é

e (paste)

1 handful of fresh coriander (cilantro), chopped
Olive oil
Salt and pepper
For Serving:-

4 burger buns
Soured cream
Shredded lettuce
Method:-
Place your ground turkey mince in a mixing bowl. Open the can of re-fried beans and gently mash with the back of a fork to ensure that you've got a good paste. Now add the beans, chilies, tomato puree and coriander, get your hands in there and give it a good mulch around to thoroughly mix everything and make sure that there are no lumps.
Form the mix into 4 patties remembering to keep them thin and just that little bit thinner still in the center. This will ensure that your burgers stay burger shaped rather than turning out like meat balls.
You can either brush your grill with the oil or brush the burgers, (either way will stop them from sticking to the cooking grate) and cook the burgers for 6 or 7 minutes on each side over hot coals.
To serve, just do it as you would any other burger on a bed of shredded lettuce but in this case topped with soured cream and guacamole. Maybe a few tortilla chips as a side?
See Also:-

Smoked Turkey
Barbecue Turkey Breast Recipes
Tandoori Grilled Turkey Breast
More Barbecue Turkey Recipes