Easy Guacamole Barbecue Dip
Guacamole Barbecue Dip is the easy way to keep your guests happy at your next BBQ cookout. It's a healthy munch too if you serve it with some vegetable crudités or some slices of pitta.
I can eat it until the cows come home and enjoy it for breakfast too.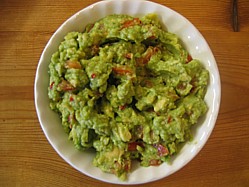 As your guests arrive they'll probably already have the gastric juices flowing so it's always good to have something prepared earlier that can be laid out to whet the appetite.
I simply make up a bowl of guacamole, a bowl of hummus and maybe a salsa too, refrigerate until the guests arrive and then just slap them out on the table.
Note: With the guacamole in particular it's important not to make it too far in advance otherwise the green avocado will turn brown. To slow down the browning on the surface you simply need to eliminate oxygen or add something that is rich in anti-oxidants such as citric acid.
For "dipping tools" I get carrot, cucumber and celery, cut it into thin strips and stack them in a glass and that's it. Even if your guests aren't really into the healthy barbecue cookout just watch them take a celery stick and dip it into the guacamole.
Arguably the traditional guacamole would contain onion but I prefer to use garlic in my guacamole barbecue dip just for that extra kick.

Yield:- ½ cup 120ml

Preparation Time:- 15 minutes
Cooking Time:- n/a

Total Time:- 15 minutes

Allergens:
Only sulphites if using bottled lemon juice.

Ingredients:-
2 avocados (ripe)
1 skinned seeded tomato and chopped
1 clove garlic crushed
1 teaspoon lemon juice
A pinch of salt
Seeded red chile chopped
Method:-
Chop the avocados in half, remove the stone and scoop out the flesh into a bowl and mash the flesh with a fork until it forms a paste.
TIP - It's important to get the lemon juice in quickly because the lemon juice contains the anti-oxidants that stop the green flesh turning brown. It also helps the mashing process.
Add the remaining ingredients and stir them in until evenly mixed. Cover with cling film and refrigerate until ready to use.
If I've really not managed to inspire you with the healthy option try this naughty but thoroughly yummy variation:-
Follow the recipe above but also stir in a tablespoon of cream and soft blue cheese
When preparing the above you may need to ensure that your avocados are ripe because there's nothing worse than trying to mash and wooden avocado. Click here for my TIP on ripening avocados.
Related Pages:-
Sour Cream And Chive Dip Recipe


Tzaziki Barbecue Dip
More Great BBQ Dip Ideas
And More Top TIPS
Healthy Barbecue Recipes