Sour Cream And Chive Dip Recipe
You can do this sour cream and chive dip recipe in minutes and it makes a great start to any barbecue party.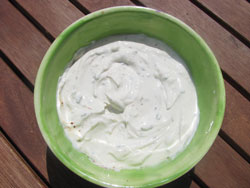 Serve it with crudités (sticks of raw vegetables) or tortilla chips (and a cold beer) and your guests will chat and munch while you get on with the cook out.
Ideal vegetable combinations are celery, carrots, cauliflower or broccoli. All of them raw (and peel the carrots), cut the celery and carrots into lengths of about 4 inches, cut the broccoli and cauliflower into small florets and just simply serve in a bowl accompanied with the dip.
Also try cutting up the stem of the broccoli to reveal the white inner core, dip and munch - absolutely fantastic.
You can just season with your sour cream and chive dip with salt and pepper but I like to use a bit of cayenne just to give it a little extra something. It's not just the kick, it also adds an extra color.
Yield:- ½ cup or 120ml

Preparation Time:- 10 mins
Cooking Time:- n/a

Total Time:- 10 mins

Allergens:
No allergens in this recipe

Ingredients:-
4 tablespoons cream cheese
4 tablespoons sour cream
2 teaspoon chives chopped
1 clove garlic peeled and crushed
Salt
Sprinkle of cayenne
Method:-
Simply place all the ingredients in a bowl and mix until smooth. Season with salt and cayenne pepper to taste.
TIP - If for any reason you are struggling to get hold of chive then substitute with some finely chopped scallion (spring onion) tops. Both chives and scallions are from the onion family so taste wise they both complement the sour cream, slightly different tastes but nonetheless yummy.
See Also:-
Guacamole Barbecue Dip
Green Chili BBQ Relish
BBQ Eggplant Salad
Hummus BBQ Dip