Mexican Barbecue Salsa Recipe
A Mexican salsa dip makes an excellent way to start off a BBQ cookout so here's my barbecue salsa recipe for you to dip into when "the munchies" come out to play and the food's still cooking.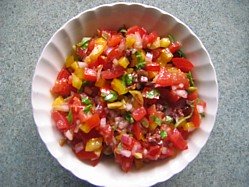 Tortilla chips and salsa, what could be easier? Not much...but 15 minutes spent preparing a fresh Mexican salsa makes all the difference.
I've tried many pre-prepared salsa dips in jars and frankly nothing comes
close. Open a jar and it just slops out into a bowl, scoop some up on a chip and it's not much more than a gooey liquid, that's not what salsa is about. In my view salsa in a jar tastes synthetic, full of flavour enhancers and whenever I taste it I think about the food technicians developing it challenging each other to see how much water they can add and how little nutritional value they can get in it.

You've probably realised...I hate the stuff! Just try this recipe for the real fresh taste of a salsa and I sincerely hope that you'll never buy another jar again.
I like to make up a bowl of my salsa, maybe a guacamole dip and some Tzaziki a little in advance of the cookout and when guests arrive, serve them a selection of tortilla chips and vegetable crudités such as carrot, cucumber and celery.
This particular barbecue salsa recipe is a derivation of what the Mexican's would refer to as "pico de gallo" or roosters beak so named because the ingredients are in chunks rather than a smooth paste. It is thought that originally it was picked at using the thumb and forefinger resembling the actions of a pecking rooster, but maybe it's just more that the chunks of each ingredient resemble bird feed?
Whatever the case, it's certainly worth a peck.

Yield:- 1 cup (250g ish)

Preparation Time:- 15 minutes
Marinade Time:- 15 minutes
Cooking Time:- n/a

Total Time:- 30 minutes

Ingredients:-
4 large tomatoes coarsely chopped
1 tablespoon finely chopped flat leaf parsley
½ red onion finely chopped
2 green chillis, seeded and finely chopped
Juice of ½ lemon
½ teaspoon salt
1 teaspoon freshly ground pepper
Method:-
It's really this simple, you don't have to worry about peeling or seeding the tomatoes, just simply chop all the ingredients into a fine dice. Mix the chopped ingredients together, cover and stand for in the refrigerator for 15 minutes.
When ready to serve, remove from the refrigerator, give it a stir and enjoy!
Note:- I used to put fresh coriander (cilantro) on this salsa when our catering team were out serving wraps. I love coriander but I was amazed how many people didn't, it was about 50:50 but what surprised me further was that those that liked it really loved it and those that didn't like it really detested it. It would seem that fresh coriander is a herb that really polarizes taste buds!
If you would like a barbecue salsa recipe that uses coriander rather than parsley then clearly you can substitute in this recipe or use the preparation in my grilled fish tacos recipe.

Related Pages:-
More Tasty Barbecue Dips
Tex Mex BBQ Sauce Recipe
Barbecue Salads