Grilled Fish Tacos Recipe
And Fresh Salsa
This deliciously fresh tasting grilled fish tacos recipe with fresh salsa mixes flavors from all over the world to produce something that's quick to cook, easy to eat and will leave everyone wanting more.
Don't ask me what it is but there's just something really appealing about the way the flavors of the Thai influenced fresh salsa complement the lightly grilled fish. Not only is it tasty, it's healthy too!
I have to confess some influence from one of my favourite chefs Rick Stein, but I've kept the recipe as simple as possible by using the grill so that you can experience the full zing of the fresh salsa. Once you've tried one, I think that you'll like it just as it is but if you want to add your own finishing touches like guacamole and sour cream, well go right ahead!
The white fish that I've used for my grilled fish tacos is haddock but any white fish will do the job provided you can get it reasonably thick, it doesn't need to be anything as expensive as monk fish or swordfish although these work equally well. The marinade time that I've stated below is time for the salsa flavors to mingle, there isn't actually any marinading of the fish.
Allergens:
It's all fresh ingredients here so there's nothing to worry about on the allergy front other than the wraps. If you have a sensitivity to wheat or gluten then no doubt you will already have a substitute lined up.

Serves:- 4 people
Preparation Time:- 20 minutes
Marinade Time:- 1 hour
Cooking Time:- 10 minutes

Total Time:- 1 hour 30 minutes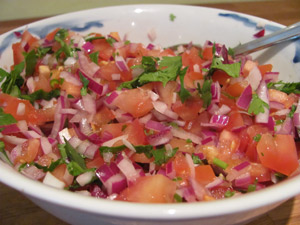 Ingredients:-
600g white fish
1 red onion finely chopped
2 tomatoes finely chopped
2 green bird's eye chillis finely chopped
Juice of one lime
1 tablespoon chopped fresh coriander (cilantro)

Salt and pepper
8 tortilla wraps
Method:-
Place all the ingredients (except for the fish, wraps and seasonings) in a bowl and give it a mix. Place the bowl in the refrigerator for one hour, this will give the lime juice time to "cook" the onion and take the sharpness out of it. There's also plenty of time here for the other flavors to mingle too.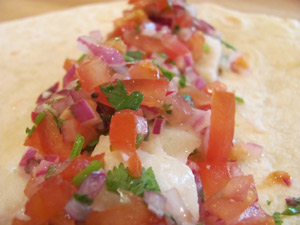 Cut the fish filets into 1 inch cubes and season with salt and pepper. Place the cubes of fish into a barbecue basket that has been oiled (to stop the fish from sticking) and grill the fish over high heat for five minutes on each side.
Now it's time to plate up your grilled fish tacos. Warm your wrap on the grill for 30 seconds and then transfer to your plate. Lay out a healthy amount of the salsa and place cubes of fish on top. As an option you can add a little sour cream if you wish but I prefer it as it is. Now get wrapping!
More Info Related To Grilled Fish Tacos:-
Grilled Fish Recipe For Any White Fish
Grilled Halibut Recipe
Barbecue Fish Kebabs (Kabobs)
Plank Cooking Fish
More Barbecue Fish Recipes

Return HOME from Fish Tacos Recipe