Plank Cooking Fish Recipe
Using Halibut

This is a really quick and easy recipe for plank cooking fish using halibut and a flavorful marinade to tickle your taste buds.


Plank cooking is a great way to do fish because the subtle wood flavor that is imparted by the cooking plank the perfect compliment to a delicate flavor such as white fish.
The basic plank cooking principle is that the plank (after a 30 minute soak in water) is moist and as it heats up it releases "wood flavored" steam thus cooking the fish. It's indirect cooking too so that gives you the opportunity to add and wood chip or two to the coals and lightly smoke the fish.

On this occasion I've gone for Smokey Olivewood plank cooked halibut but you could try a Swordfish steak if you prefer.
Halibut is a flat fish (a member of the flounder family) found in the North Atlantic and North Pacific Oceans. Food-wise it's highly regarded for its firm dense texture and clean flavour and it's not a fish you'd normally smoke because it is super low in fat content. So this technique of plank cooking fish is the perfect way to add smoky flavour to this wonderful halibut.

My plank cooked halibut recipe relies on a 30 minute marinade so there's a little bit more time involved. Having said that, it is a wine marinade so no clues how to while away the 30 minutes – all you need is a glass!
Serves:- 2 people

Preparation Time:- 10 minutes
Marinade Time:- 30 minutes
Cooking Time:- 15 minutes

Total Time:- 55 minutes

Allergens:
All the ingredients are in their raw state so there are no allergens other than the fish. If you're tempted to use lemon juice from a bottle then there will be sulphites present.

Ingredients:-
Two good size Halibut fillets
White wine (as much as you dare spare!)
Juice and Zest of one lemon
One clove garlic crushed
Extra virgin olive oil
Method:-
Make 3 or 4 incisions in the fillet as this gives greater surface area for the marinade to work and also ensures even cooking. Place the fish in a flat marinade bowl and pour over a good lug of white wine and a small amount of olive oil.
Sprinkle the crushed garlic and lemon zest over the top and finish off by squeezing the lemon juice all over. That's your marinade complete.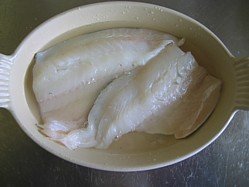 Whether using your oven or your barbecue, you need to get the temperature up to 300°F or 150°C and place your cooking plank in there for about 5 minutes just to warm through.
After the 30 minutes marinade, carefully place your fish fillets on the pre-heated plank, pour over another lug of olive oil and slide it in the oven for 15 minutes.
For a nice healthy meal serve with boiled new potatoes and steamed vegetables. Try my recipe for potatoes in green Mojo sauce.
Related Pages:
Cedar Plank Trout Recipe
Cedar Plank Grilling White Fish
More Great Plank Cooking Recipes