Cedar Plank Trout Recipe
This cedar plank trout recipe can be done on the barbecue grill or oven in about 20 minutes so really fast and really healthy. All you need to do is to soak the planks for 30 minutes while you prepare the rest of the ingredients then you're ready to go.
Just check out the wonderful color of this plank cooked sea trout.....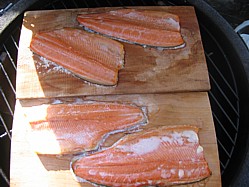 Did you spot the deliberate mistake? I did this recipe early on in my plank cooking career and I made the mistake of cooking the fillets flesh side up. Whilst it makes cooking easy it does nothing for the presentation or the flavor.
The whole principle of plank cooking is that the moisture in the pre-soaked plank steams the fish when it is heated and imparts some of the flavor of the wood into the fish - not easy through an impermeable membrane like fish skin! Always cook your fish fillets with the skin side up, that way the skin acts like a lid.
In addition you will know when your fish is ready because if the skin side is up, you can just peel it off. If it peels off nice and easy then your fish is ready whereas if you're having tug at it, pop it back in the heat for a further 5 minutes and try again.
This cedar plank trout is such simple recipe, if you're into trout it really is a must. I'm using sea trout which is from the brown trout family although from the picture above you might be forgiven for thinking that I cooked salmon.
Sea trout leads an anadromous lifestyle which means that is lives and feeds in the sea and returns to fresh water to spawn. It's this life and feeding in the food abundant sea waters that means a sea trout can grow up to 10Kg in weight, significantly larger than the brown trout in the rivers.
The texture and colour of sea trout is very similar to salmon but normally it is cheaper to buy. As with all fish, make sure what you buy is fresh, look for bright eyes a fresh sea aroma and a bronze sheen to the skin.

Serves:- 4 people

Preparation Time:- 10 minutes
Cooking Time:- 30 minutes

Total Time:- 40 minutes

Allergens:
The only allergen is this recipe is fish... I hope you spotted that!

Ingredients:-
4 trout fillets.
1 small onion finely chopped
2 tablespoons butter
2 or 3 sprigs of flat leafed parsley
A teaspoon tip of Wasabi powdered horseradish
Salt and freshly ground black pepper
Method:-
Soak your cooking planks in water for 30 minutes.

Place the sea trout fillets skin side down on a board.
Mix up all the other ingredients in a bowl (excepting the sea trout) and and then just lay the ingredients across the fillet and pat them down a little just to make sure that they adhere to the flesh.
Transfer the trout fillets to your cedar planks and turn them over to be skin side up. Pop the cedar plank trout into a low oven or barbecue at 110°C or 230°F and in 25 – 30 minutes you're ready to serve.
Peel away the skin to check that it is cooked and with a long fish slice carefully turn the plank cooked sea trout fillets over leaving them on the same plank to serve. Don't worry if some of the seasoning mix remains of the plank as this will season the freshly peeled skin side.
I like to serve my plank cooked sea trout accompanied by a green leaf salad and new potatoes.
See Also:-
More Great Plank Cooking Recipes
Delicious Trout on the Barbecue Grill
Cedar Plank Grilling White Fish
Tips For Plank Grilled Fish

Return for more Easy Barbecue Recipes from Cedar Plank Trout Recipe