How To Ripen Avocado Tip
This "how to ripen avocado tip" is here so that whenever you fancy avocado in your barbecue cooking you can guarantee that it will be soft and green - just as it should be.
Well if you're anyone like me you've probably been in the situation where you fancy a guacamole to accompany the barbecue cookout or maybe some avocado and bacon bites and you slice open an avocado only to find that the flesh is not dissimilar to a tree – other than it's green of course.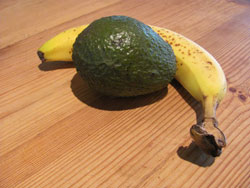 Avocado should have soft flesh and when you get them woody well frankly they're not much use to anybody. We could blame it on global supply chains and the power of the supermarkets etc. in that the fruit is picked long before it's ripe but at the end of the day it won't change the texture of the avocado.
So how do you ensure that the avocado is ripe every time? Well it does take a bit of planning but I can assure you that this TIP really does work and it's not an old wives tale.
Take the avocado and wrap it in a brown paper bag and store at room temperature. Leave it for 2-5 days and that's it! Hold the avocado in your hand a gently squeeze, it should be firm but yield slightly under gentle pressure then you know it's ripe. When you slit open the fruit you should have soft green flesh first time and every time.
If you want to accelerate the process then take a leaf out of the commercial grocers book. With global shipping of exotic fruit, much are picked under-ripe and then ripened in transit. To ripen fruit they use ethylene gas and this gas naturally occurs in bananas so add a banana in the bag and speed up the ripening process.
Once ripe, the avocado will keep in the refrigerator for 2 or 3 days.
Is My Avocado Ripe Yet?

So you've followed the ripen avocado tip but is your avocado ripe? If you cut into it and it's not ripe then there's not much you can do with it except put it in the bin so how do your tell if your avocado is ripe without breaking into it?
An avocado is a fruit and just like any fruit (take an apple for example) you know it's ready to be picked when when it's about to fall off the tree.
Take a look at your avocado and your see that at the thin end of the fruit there is a little "nipple" where the fruit was attached to the tree.

Give this nipple and gentle wiggle. If it stays firm then your avocado is not yet ripe but if it comes away to reveal the green flesh (see image below) inside then you know that your avocado is ripe.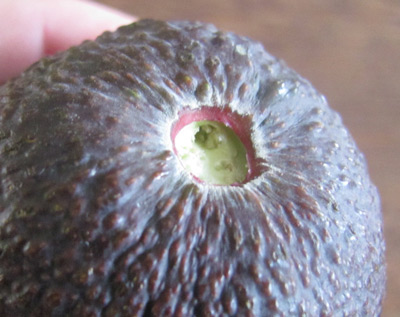 This avocado is ripe
You can see above that the exposed flesh is green so this avocado is absolutely perfect.
Note: You can apply the same test to an over-ripe avocado because the flesh exposed will be brown.
What happens next?

Now you're going to have to indulge me. I thought that this "ripen avocado tip" was a great one to use as a first experiment with video and YouTube so I made this short video. The definition isn't great but I hope that I get the point across (and I hope that I can do better in the future!)
Have You Got The Best Ever Cooking Tip Up Your Sleeve?
Do you have a great cooking tip that will make life easier? Do you know how to...........? If so, please share your knowledge and make someone's day.


Related Pages:-
More BBQ Cooking Tips
General Cooking Tips


Return to Barbecue Smoker Recipes Home Page from my How To Ripen Avocado Tip