Barbecue Grilled Turkey Breast Tandoori Style
I did this barbecue grilled turkey breast tandoori style at the height of summer to find out what it might be like to eat spicy food during the heat of the day and also to prove that there's more to turkey than Thanksgiving and Christmas.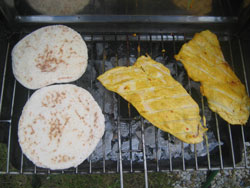 I must say that having a bit of spice during the hot weather was extremely refreshing and not just because it forced me to drink a bucket load of water to cool off.
Once you've marinaded, the grilling process is simple, you just got to remember to prepare in advance because the marinade needs at least overnight to get in and do the job.
Apart from adding flavor with a distinctive marinade, the principle of tandoori cooking is fast and hot so that the juices in the meat are sealed in by a crisp exterior.
That said, have you ever tried to grill tandoori chicken and found that the outside of your final offering is soggy rather than the crisp? Then when you crank up the heat and try again the result is still the same?
It's not the heat where you have the problem it's too much of the marinade still on the meat when you cook it. You'll notice that in the method statement I talk about patting the meat dry with kitchen towel - this is an important step not to be missed out.
I served my tandoori grilled turkey breast with unleavened naan bread, cucumber raita and a typically Indian tomato and onion salad (or chutney) – great finger food for an informal gathering.
There's enough here to do half a dozen turkey breasts.
Serves:- 6 people

Preparation Time:- 20 minutes
Marinade Time:- overnight
Cooking Time:- 20 minutes

Total Time:- 1 day

Allergens:
There are no allergens in my tandoori grilled turkey breast recipe unless you use bottled lemon juice. Bottled lemon juice will contain sulphites.

Ingredients:-
6 turkey breasts
Juice of 2 large lemons
200ml or ¾ cup natural yoghurt (low fat works OK too)
4 cloves garlic
2 teaspoons paprika
2 teaspoons cumin powder
4 teaspoons turmeric
2 teaspoons salt
1-2 teaspoons chili powder
1 teaspoon ground ginger
A splash of red food coloring
Method:-
Using a sharp knife on a board make a few diagonal incisions into your turkey breast and this will increase the surface area that the marinade has to work on.
Mix all the ingredients (with the exception of the turkey) into your marinade bowl and then place the turkey breasts in the mix. Cover and refrigerate overnight.
Two hours before the cookout take your marinade bowl out of the refrigerator to give your meat time to come back up to room temperature. This makes cooking more even because you are reducing the temperature differential between uncooked and cooked.
Prepare hot coals, remove the turkey breasts from the marinade and pat them dry in kitchen towel removing any excess marinade.
Grill the turkey breasts for 8 to 10 minutes each side depending on the thickness of the breast and you're ready for a tandoori grilled turkey breast feast.
See Also:-
More Barbecue Turkey Breast Recipes
Smoked Turkey
Plank Cooking Turkey


Return to Gas Grill Recipes from Barbecue Grilled Turkey Breast Tandoori Style