A Texas Smoked Brisket Recipe That's Moist And Tender
For this Texas smoked brisket recipe I've got a killer marinade that will ensure a moist, tender result and all you have to do is follow my simple guide for smoking brisket:-
Long
Slow
Low temperature
Water bath
It might sound daft but you can't really do brisket for too long. Brisket is typically low on fat and high in connective tissue and it's the long slow low temperature in this Texas smoked brisket recipe helps break down the tough connective tissue. It's this "melting" of the connective tissue that keeps the meat moist throughout the cookout.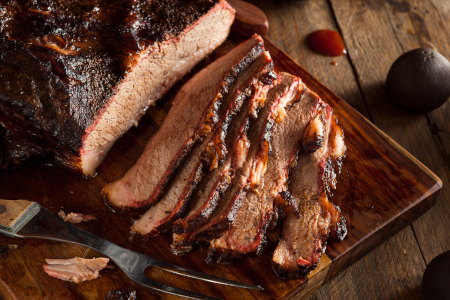 When I first started to research smoked brisket recipes I was really nervous that I'd simply end up with a dry block of meat good only for the sole of my shoe but trust me, you really can smoke brisket for 8 or 10 hours and get great results.
The best bit about brisket (along with pretty much all of the best cuts for low and slow cooking) is that it's a relatively cheap cut of beef. If you were to look at the anatomy of a beef cow you'd see that the brisket is pretty much in the same location of the animal as the pork butt (shoulder) is in the pig. It's a muscle that gets a lot of work as the animal grazes hence its toughness and the need to to slow roast.
The most common way to buy brisket in the UK is as a rolled joint which is perfect for serving small numbers of people. You can off course buy the whole brisket in one big piece although this will weigh something in the region of 5Kg (11lbs).

My recipe starts with a whole brisket and a marinade designed to add flavour to the meat. It's a different style of marinade to the sort that I would use for grilling and there's a lot of complex flavour combinations. To make the most of the flavours you really need to try injecting the marinade into the brisket as well as coating the exterior of the meat.

Preparation Time:- 20 mins
Marinade Time:- 2 days
Cooking Time:- 8-10 hours

Total Time:- 2½ days

Ingredients:-
1 teaspoon salt
1 teaspoon dry mustard
1 teaspoon chili powder
2 teaspoons paprika
1/3 cup vegetable oil
2 cloves garlic, crushed
1 large (or 2 small) bay leaf
1 teaspoon Tabasco pepper sauce
6 tablespoons Worcestershire sauce
3 tablespoons cider vinegar
1 tablespoon soy sauce

750 ml or 3 1/4 cups beef stock
Method:-
To make the marinade, throw everything in a pan (except for the brisket), place over medium heat and bring to a boil stirring all the while. Remove from the heat and allow to cool.
When cool, pour the marinade into a non-metallic marinade bowl and sit the brisket in the marinade for a couple of days turning regularly to ensure it gets to work – it's at this point that you may try injecting too. Ensure that your brisket and marinade is refrigerated throughout this time.
Place your brisket in the smoker over a water bath and smoke for 8-10 hours at 110°C or 225°F. Baste on more of the marinade every hour or so making sure to minimise the time that the lid is open on your smoker otherwise you'll loose all the heat.
To check on the progress of your Texas smoked brisket and to make sure that it is cooked through, use a bbq thermometer, insert the probe into the center of the beef and check for an internal temperature of 160 – 170°F (71 - 75°C).
Patience will be required (as with all low and slow cooking), it will only be in the final hour of cooking that your brisket hits the required internal meat temperature. During the cookout you will find that it will plateau at a lower temperature and it may concern you that you will never reach the desired temperature - it's at this point that you need to have faith! Keep going, you'll get there.
When cooked, set to one side for about 30 minutes to let the internal temperature stabilise and the juices to distribute though the beef. Now carve. To be honest I love my Texas smoked brisket the way I've described below either hot or cold.

TIP 1 - Don't just use this last recipe mix on Brisket, it works great on ribs too!
TIP 2 - Remember all sauces and rubs can be kept in airtight containers for future use provided they have not yet come into contact with the meat.
What To Do With Leftovers

Perish the thought that there should be any Texas smoked brisket leftover! If anything is left then keep it simple and let your previous days smoking prowess do the talking.
Serves:- 4 people

Preparation Time:- 10 minutes
Cooking Time:- n/a minutes

Total Time:- 10 minutes

Ingredients:-
4 large burger buns
Beef brisket sliced
Green salad of your choice
1 teaspoon (per bun) horseradish sauce
For light weekday lunches this barbecue beef brisket sandwich really hits the spot.
See Also:-
More Beef Recipes
Smoked Tri Tip Recipe
Laze In Your Hammock During The Long Slow Cookout
Barbecue Smoker Information