Barbecue Grilled Fish Recipe For White Fillets

The flavour for this barbecue grilled fish recipe is in the marinade which has everything that a good fish marinade should have - sweetness, saltiness and a hint of citrus fruit.
It was a very similar recipe to this that I fist saw in Istanbul served directly from the fishing boat. There were crowds of people around the boats all waving Turkish Lire notes hoping to be next in line to get their hands on a tasty snack.

I'm using it on white fish fillets which are very easy to cook making this the perfect recipe for novice and expert fish grillers alike.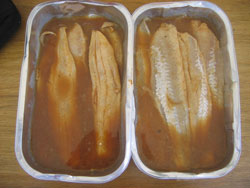 A foil marinade bowl?.....We were camping, OK?
You can use any white fish for this barbecue grilled fish recipe, whether it be cod, halibut, tilapia or even sole. Just remember with sole that it does have some pretty big and unpleasant fins so ask your fishmonger to trim the fish before you start.
I also asked for my fish to be skinned, this way the marinade can work all over the fish fillet.
To skin a fillet is really easy, all you need is a board and a long thin bladed knife (the thin blade makes the knife a little more flexible). If using a wooden board you might want to cover it with cellophane to stop the smell of the fish penetrating the grain.

Place the fish fillet skin side down and make a small incision at the tail end of the fish so that the skin separates from the flesh. Keeping the fillet flat on the board use one hand to hold the small tab of skin that you have separated and use the knife to gently saw between the skin and the flesh from the tail to the head.
If you find the skin too slippy to hold in your fingers then use a piece of paper towel.
This YouTube video explains visually in a minute or so.
Allergens:
In addition to soy, most soy sauce contains gluten. Use tamari as a gluten free alternative.

Preparation Time:- 10 mins
Marinade Time:- 2 hours
Cooking Time:- 10 mins

Total Time:- 2 hours 20 mins

Ingredients:-
6 white fish fillets skinned
150ml / 5 fl oz lime juice
150ml / 5 fl oz dry white wine
1 tablespoon clear honey
2 teaspoons light soy sauce
salt and pepper
Method:-
Place the fish fillets in a rectangular marinade bowl.

Mix all the ingredients above (excluding the fish) to make your marinade and pour it over the fish. Cover your marinade bowl with stretch wrap and allow the marinade to do its work for a couple of hours.
Give it "a shimmy" every now and then just to ensure that all the fish is getting the benefit. A gentle agitation is enough, you don't want to be handling the fish any more than is necessary otherwise you risk breaking up the fillets.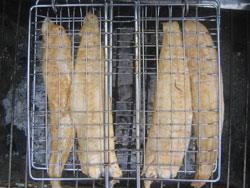 If using a charcoal grill use a barbecue fish mat or a barbecue basket To stop the fish from breaking up or sticking to the grill - the basket really helps keep the fillets in one piece when you turn them. In addition take the extra precaution of brushing your basket with cooking oil prior to adding the fish.
If on gas you can cook over the hot plate or if you have a ceramic kamado then try using the cast iron plancha attachment. Spray a little oil onto the hot plate to start off.

When your grill is hot, place the fish fillets over the grill and cook for 5 minutes on each side and spoon the marinade over the fish during the first few minutes of cooking.
Note:- Raw fish has been in the marinade so dispose of your marinade in the final minutes of the cooking to avoid cross contamination and certainly do not use it as a sauce.

You can serve this barbecue grilled fish recipe in a number of ways:-
A salad over your favourite mound of leaves and drizzled with a citrus infused olive oil.
With oven roasted potato wedges. Just cooked and soft with a light caramelization
As they do in Istanbul when they catch it fresh from the Bosphorus, quite simply in a bread roll, drizzled with a little olive oil and sprinkled with sea salt flakes.
See Also:-
Barbecue Trout Recipe In Newspaper
Plancha Grilled Fish Recipes
Spicy Grilled Tuna Steaks
Hot Smoked Salmon


Return to Home Page from Barbecue Grilled Fish Recipe For White Fillets