Nichola's BBQ Lamb
This brilliant BBQ lamb recipe came to me from my good friend Nichola. It's ideal for the barbecue grill and had a wonderfully tasty marinade.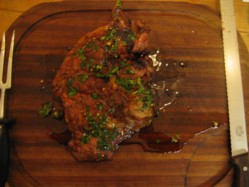 The roots of this recipe must lie in Spain because it's heavy on paprika and with chilli and garlic to complete the mix it's got to be a winner. There's more paprika in the sauce and the combination of flavours achieved with the herbs is out of this world.
TIP - Add the herbs to the sauce at the last minute, maintain their structure and don't wilt.
I've chosen to use a boned shoulder but you can butterfly a small leg and get equally good results. The shoulder holds slightly more fat than the leg and I think that it adds to the succulence of the joint, my missus however prefers to do this recipe with leg because it's more lean.
Well you can't please everybody can you?
Your butcher will take the bone out for you. Just explain to him / her that you want to then grill the meat as a slab on the barbecue and you should end up with a nice big hunk of meat that's about 2 inches thick in the most part.
Preparation Time:- 10 mins
Marinade Time:- 2 hours
Cooking Time:- 30 mins

Total Time:- 2 hours 40 minutes

Ingredients for the marinade:-
6 tablespoons oil
1 teaspoon chilli flakes
Juice and Zest of 2 lemons
One teaspoon Spanish smoked paprika
2 cloves garlic chopped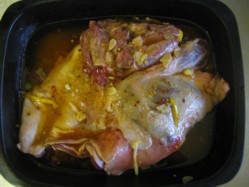 Ingredients for the sauce:-
4 tablespoons oil
½ teaspoon chilli flakes
½ teaspoon paprika
1 level teaspoon sea salt
1 large handful of mint roughly chopped
1 large handful of coriander roughly chopped
Method:-
Cut into the deepest part of the lamb to create an even surface and place it skin side down in a roasting try. Pour over the marinade, rub it into the lamb and set aside for at least a couple of hours.
Provided your lamb shoulder was refrigerated when you started you don't need to return it to the chiller during the marinade stage unless you are marinading for more than three hours. If you do refrigerate during the marinade stage then you will need to bring the slab of lamb back upto to room temperature before cooking so remove it from the refigerator a couple of hours before throwing it on the grill.
The coals on the barbecue grill need to be pretty hot and when ready slap the lamb on skin side down (beware the risk of flare up) and sear for 20 minutes. Flip it over and give it another 10 minutes.
TIP - Use tongs to turn the meat rather than a fork. If you puncture the meat with a fork then all the juices will run out leaving the end results a little dry.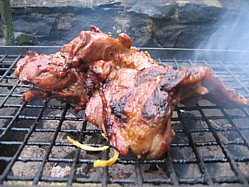 It's a double edged sword whether to do skin side down first or not. The skin side has most of the fat which will melt in the heat and could cause a flare up. Conversely the skin protects the meat, keeping it more succulent and I think that this gives you better control over the cooking and you've more chance of having the lamb done to your liking - especially if you like it pink like me.
Cooking time will vary a little depending on how thick your piece of lamb is and of course how you like your lamb cooked. When done to your liking, pop your BBQ lamb skin side down into a roasting tray and pour over the sauce. Let the meat rest for 10 minutes and then serve and enjoy.
Related Pages:-
More BBQ Lamb Recipes

Barbecue Grill Information

More Great Barbecue Marinades

Return to Home Page from BBQ Lamb