Burger And Fries On The
Big Green Egg
The ideal BBQ grill for cooking burger and fries has to be the kamado...and it doesn't matter which one so long as you have the "plate setter" heat deflector for indirect cooking.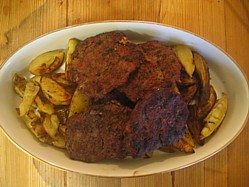 Read my guide how to prepare the perfect hamburger and you'll note that the best way to cook the most juicy hamburger (provided you follow all the other points too) is to take a 2 step approach to the cooking...indirect cooking followed by direct grilling.

This is where my Big Green Egg comes into its own (any other kamado cooker such as the Primo kamado or Grill Dome is fine too) because you  can use it like an oven as well as a grill. The Primo does however have one advantage over the other kamado grills and that because the oval heat deflector plate is in two halves so you can cook directly and indirectly at the same time. No need to remove the heat deflector plate half way through the cookout as I did here (see method below).
That said you can use any barbecue with a lid for indirect cooking but for the fries in this recipe you need a high heat for a reasonably long period of time and and that means a lot of fuel with a gas grill.
In this recipe the fries are cooked indirectly in duck fat and the burgers are also initially cooked indirectly followed by a quick flash on the grill to brown them up at the last minute.
I had fries cooked in duck fat at a restaurant in Bordeaux France called La Tupina and ever since that day duck fat or goose fat has been a regular ingredient to be found in my refrigerator. It's a completely different tasting result altogether and you simply must try it.
When you read the method you'll also see that I've got a couple of tips for you that will only serve to enhance the crisp flavor of your fries.
This recipe is about the process of cooking the burger and fries so my assumption is that you've already made your burgers and the preparation time reflects this. If needed, use this link for my grilled hamburger recipes.
Preparation Time:-10 mins
Cooling Time:-60 mins
Cooking Time:-30 mins
Total Time:- 1hr 40 mins
Ingredients:-
Potatoes for fries
Duck fat (or goose fat)
Ground beef for burgers
Method:-
Cut up your potatoes for fries and throw them into boiling water for 10 minutes, drain thoroughly and dry with a little kitchen paper. Allow the fries to cool, place them in an oven tray and then spoon over the duck fat and leave them to sit for an hour - this allows the fat time to penetrate the potato and really deliver that crisp texture that we are looking for. Next we need a blast of heat.
Get your Egg going really hot and set it up for indirect cooking (caution – use heat resistant gloves to insert the plate setter).
The fries will cook at 180°C or 350°F in about 30 minutes so when you get to half time, lay the burgers on the grate above and let them have fifteen minutes. When the fries are ready (again with heat resistant gloves) remove the oven tray and the plate setter and give the burgers 5 minutes grilling on each side to brown them.
Drain the fries and transfer them to a warm serving dish, place the burgers on top and the choice of barbecue sauce is up to you.....or why not make your own homemade ketchup?
More Pages Related To This Burger And Fries Recipe:-

My Best Grilled Hamburger Recipe
Grilled Venison Burgers With Redcurrant Jelly
Kamado Cooking
Grill Dome
Kamado Joe
Dragon Fire Kamado
Big Green Egg
Primo Kamado

Return to Recipes Home from Burger And Fries On The Big Green Egg