Red Hot Plancha Hotplate Barbecue Grill Review
It is an evolution, but my first experience with a Red Hot Plancha hotplate barbecue grill turned out to be a revolution.
I say it's an evolution because what the guys at Red Hot Plancha have done is take the simple concept of a hotplate and turned it into a dining experience, something that your dinner party guests will talk about for many days to come.
The nice guys at Red Hot Plancha were kind enough to send an example to me for trial so the day it arrived I hastily organised a meal for my neighbors to see what their reaction would be.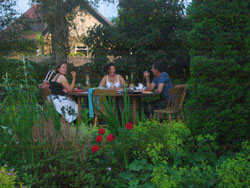 I did thinly sliced sirloin steak with asparagus, zuchini (courgette) and eggplant (aubergine), simple but effective. As we sat around the table throwing morsels of food onto the plancha hotplate I asked my friends for their feedback and this is what I got:-
"It's a complete experience, it really puts the word social into outdoor cooking"
"I'd buy one. We have a gas grill but I don't use it because I spend all my time with my back to the party slaving over hot coals. This is different because I can party and cook at the same time".
What Is A Red Hot Plancha?
It's a gas fired hotplate integrated into a circular dining table and the concept is that everyone sits around the table and cooks their own food on the central hotplate. There's a battery operated ignitor and circular burner under the hotplate and the central pillar of the tables acts as a store for the gas bottle.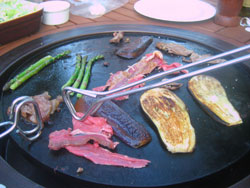 The instructions stated that for the best results you should fire it up on full for a couple of minutes, then turn to low, splash on a lug or two of oil and start cooking – and it worked.
Certainly I'll be using it again and will develop some more recipes for this style of cooking so you can all enjoy the experience (I just hope that the guys at Red Hot Plancha don't ask for me to send the hotplate barbecue grill back to them!)
Talking to the manufacturers there's lots of developments in the pipeline too. Different styles of table, electric planchas and more accessories.
Where Can You Buy A Red Hot Plancha?
The company that makes these hotplate barbecue grills is very young so their dealer network is still being developed. Because of the positive response I've had, not just cooking for myself but from other users too, I've decided to help them out and you can
click here
and complete the contact details form and I'll forward it onto to Red Hot Plancha so that they can point you in the right direction to find your nearest dealer.
See Also:-
Buy A Red Hot Plancha Now

What Others Say About The Red Hot Plancha
Return to Home Page from Red Hot Plancha Hotplate Barbecue Grill Review