Little Wienies and Barbecue Sauce (Frankfurters)
Little Wienies and barbecue sauce really go well together and when you see the bbq sauce options that I've got for you, that tummy of yours will be rumbling!
Before we go any further though, I must first of all, for my international readers just explain the derivation of the word "Wienie".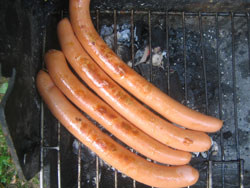 A "Wienie" is a sausage that was originally manufactured in Vienna (In Austria, Vienna is spelled Wien) and is a derivation of the word "Wiener" meaning Viennese. In essence it's a very similar beast to good ole frankfurter that we find in our hot dogs.
These days, not many hot dog sausages know where Frankfurt is let alone were manufactured there and it's pretty much the same with the Wiener.
So having broken that apart, it's hot dogs and bbq sauce – it makes a great alternative to ketchup or mustard and you can spice it up to suit.
Do I need to tell you how to make a hot dog? The hot dog sausage is already cooked so it's just a matter of warming which you can do in water or as I do over light coals.
You need to be gentle in the warming process otherwise the skin of the sausage will split. Don't worry if it does, it's not a disaster and more often than not it will split because most hot dog sausages are made on a budget. It's only when you get the more expensive sausages that they will come in casings designed not to split.


Get your frankfurter or wienie, a long finger bread roll and the rest is up to the sauce.
For the barbecue sauce recipe I have a couple of favorites…………so here's little wienies or frankfurters with barbecue sauce just for you:-
Why not try a traditional barbecue sauce recipe
Or mustard barbecue sauce recipe
But if you really can't decide just check out all your options on my barbecue sauce recipe page
See Also:-
Sausage Grilling Tips
Grilling A Cumberland Sausage Ring