New Orleans Sausage Recipe

My New Orleans sausage recipe is based on a classic Cajun smoked andouille sausage. Hot, spicy and well seasoned this pork based sausage is hot smoked and can either be eaten straight or used to enhance the flavour of your bean stew.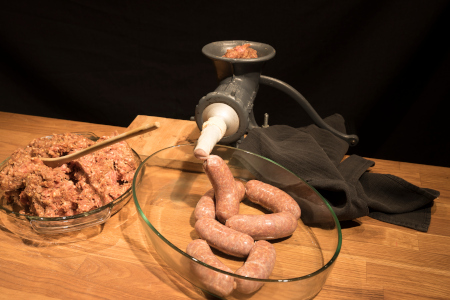 Having been asked to research and write the perfect New Orleans sausage I did (as a European) get a little worried when it narrowed down to Cajun Andouille.
You see there's a sausage served in France called Andouillette which I roughly translated as "little andouille" so I thought maybe there would be a similarity in the ingredients. Andouillette is made from tripe...not my favourite!
Other than the spelling and pronounciation, thankfully that's where the similarity ends. Andouille is pork based and packed with Cajun herbs and spices, it's hot smoked, I can't get enough of it so I hope that you like it too.

Making New Orleans Sausage
This Cajun sausage is cured so you'll see Prague powder listed in the ingredients. It's not difficult to make but make sure that you have some Prague powder made up before you start the recipe.

Yield:- 1.2 Kg or 2½ lbs
I prefer to use sheep casing for my New Orleans sausage because it's more tender when it comes to eating. That said the more robust hog casing is easier to stuff and link so choose what best suits your skill / experience level of sausage stuffing.
Sheep casing: prepare 4.2m or 14'
Hog casing: prepare 2.1m or 7'
As usual, rinse the casing and refrigerate it overnight in water to remove the salt. When ready to stuff, soak in warm water for 30 mins to provide some elasticity.
Read my full page on making homemade sausage for more details on this point.
Allergens:
This sausage contains mustard. It also contains mace which is the nutmeg shell; technically nutmeg is a seed and not a nut but I always like to draw attention to it so you can make your own decision whether this sausage recipe is right for you.

Ingredients:-
1.15kg or 2½lbs fatty pork shoulder
1 tablespoon paprika
1 tablespoon onion flakes
1 tablespoon golden syrup / corn syrup
2 teaspoons salt
2 teaspoons cayenne pepper
1 teaspoon ground black pepper
1 teaspoon garlic powder
1 teaspoon dried thyme
½ teaspoon mace
½ teaspoon Prague powder
½ teaspoon whole black mustard seeds
tip of a teaspoon allspice
tip of a teaspoon ground cloves
110g (½ cup) powdered skimmed milk
60ml (¼ cup) ice cold water
Method:-
Take all the ingredients except the pork and mix them together in a bowl. Give it a good stir to ensure that it is thoroughly mixed and then return to the refrigerator to chill while you prepare the pork.
Cut the pork up roughly into 5cm (2") cubes and grind through a 5mm plate. When done, return the pork to the refrigerator for 30 minutes.
It's a good idea to get your casings into some lukewarm water at this stage.
When everything is well chilled, add your seasoning slurry to the ground pork and knead well to ensure that you have a good distribution of the seasoning throughout the meat. This will take about 5 minutes.
Stuff the sausage meat mix into your casing and make 6" long sausage links. This article covers how to link sausage.
When done, return your links to the refrigerator overnight to allow for the seasoning to fully infuse the meat.

Smoking Your New Orleans Sausage
Use my guide for making smoked sausage to see the full instructions for hot smoking / cooking.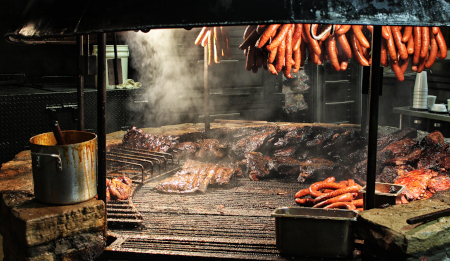 You can eat New Orleans sausage hot of cold. Whatever takes your fancy I hope that you enjoy it!