Best Outdoor Tabletop Gas Grill And Table
The best tabletop gas grill and table has to be the Red Hot Plancha, because it is the tabletop and grill table all in one. The grill plate is integral to the table so it makes the perfect outdoor patio dining table too.
There's nothing revolutionary from a technical point of view and mechanically it is quite simple so there's very little that could ever go wrong with it. Fundamentally it is a circular table with a hotplate grill in the center, under the hotplate are two circular burners to heat the hotplate and a battery operated igniter. (1 x AA battery). The burner is fueled by LPG and there's a neat column storage area underneath the table.
Why is this tabletop gas grill so great?
As I've said, it's far from a technical revolution, what makes it so great is the cooking concept – social alfresco dining. Your traditional barbecue, grill or smoker usually relies on one person doing the cooking and everyone else chatting and having a good time. If you have a Red Hot Plancha, everyone cooks and you too can join in the party.
Who should buy one?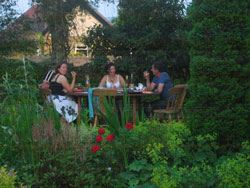 You should buy one of these if you're into outdoor dining and dinner parties but do the cooking more out of necessity rather than because you love it. Look at the pro's:-
You're not cooking with your back to your party guests
The plancha grill table is a great talking point
You can use it as a regular outdoor patio dining table
This last point is worthy of note because the cost of one of these units isn't much more than the cost of a regular table and the quality is robust too.
Does it come in more than one size?
Yes it does. I have a six foot diameter plancha which is perfect for 8 – 10 people. There's also a four foot table suitable for 4 – 6 diners and so perfect for the family and finally there's a 3 foot table that neatly fits on a porch or balcony, ideal for a couple.
These grill tables have traditionally been made of wood and now the range is extending to introduce a stone effect table too.
Where can you get more information?
Well
there is a website
but frankly I've heard nothing from these guys in a number of months. If you do make an enquiry and get a response, let me know.
See Also:-
Cuisine A La Plancha

Hotplate Barbecue Grills

Patio Furniture

Patio Dining Sets

Grilled Tuna Steaks

Grilled Scallop Recipes

Return to Home Page from Best Outdoor Tabletop Gas Grill And Table