Wedding BBQ Catering

Qué Fresco wedding BBQ catering service will certainly make your special day something different and a day to remember.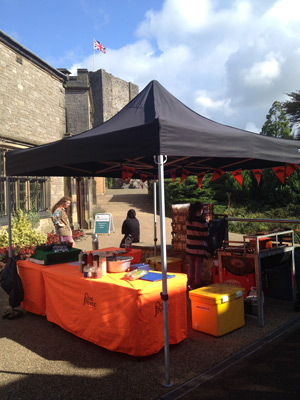 More and more couples are looking for a day with a difference and we aim to help make your special day just right.
What makes our wedding BBQ catering service stand out is that our chefs are trained to cook over charcoal, in fact, we don't do anything else. We're not kitchen chefs who light a barbecue when required (and burn everything), we cook over charcoal week in week out 52 weeks of the year…and we love it!
In addition we are passionate about fresh produce and locally sourced ingredients
Our wedding bbq catering service can be used for either:
The wedding breakfast with canapés, main course, dessert and cheese board
Evening munchies such as sausage, burgers and pulled pork
For your wedding breakfast then check out our full a la carte menu.

Weddings – Evening Menu
Traditionalwhole roast pig £9
Slow roastedwith salt flakes, delicious gold-
en crackling. Servedwith garlic & rosemary
roast potatoes, sage & onion stuffing, Bram-
ley apple sauce, onion gravy & soft floured
bread rolls.
Piggy havana £12
Cuban spiced hog, orange, oregano, fennel
& chilli. Servedwith spicy chorizo sausage,
sweet potato fries, rocket leaves & ciabatta
bread.
Memphis pig pickin' £12 #1BEST SELLER
Slow smoked hickory pork buttwith sweet
sticky BBQ sauce. Servedwith fresh slaw,
sweet potato fries & brioche rolls.
Smoke roasted porchetta
Famous Italian pork roast £12NEW
Seasonedwith rosemary, chilli, garlic, bay,
fennel, black pepper & smoked salt flakes.
Servedwith creamyMayo spikedwith truffle
oil, shaved parmigiano reggiano cheese,
rocket leaf, sauté potatoes & ciabatta bread
roll.
Rub& brushwhole spit roast lamb £12
Rubbedwith garlic & rosemary & brushed
withmint ,lemon, thyme & honey. Served
with goose fat roasted potatoes, herb stuff-
ing,mintmojo sauce & ciabatta bread rolls.
Whiz& drizzlewhole goat £12
Rubbedwith Jamaican curry spices, served
with lettuce & onion in awrap & drizzledwith
coriander & yoghurt sauce.
Low& slow pit smoked beef £12NEW
TenderAngus salt beef, slow cooked over
charcoal & hickorywood. Servedwith curly
fries, rocket, horseradish cream, crispy onions
& soft floury bread rolls.
Whole spit roast venison £12
Rubbedwith juniper, bay & garlic. Bastedwith
smoked streaky bacon & servedwith redcur-
rant & port sauce, roasted potatoes & ciabatta
bread rolls.
Tandoori chicken £11NEW
Tender chunks of Tandoori chicken cooked in
our charcoal clay oven. Served in pitta bread
with salad, onion bhaji's &minted yoghurt
sauce.
Wood fired pizza £10
Build your own pizza, you choose your top-
pings &we stone bake it.
Fish& chips £10
Delicious freshly fried fish & chips, homemade
tartar sauce, cherry tomato ketchup, salt flakes,
vinegar, lemonwedges & soft floured bread
rolls.
Wedding BBQ Catering Is Not Silver Service
In addition to tasty meats cooked low and slow, barbecue is about the atmosphere, the fire, the smoke and the company. It's perfectly suited to a relaxed environment where barbecue meats are presented for guest to serve themselves and graze or for hunks of meat to be delivered to the centre of the table for guests to share.
If you're looking for a very traditional wedding breakfast with simultaneous individual serve and cloches then we're not the team for you.
Also just a small note on desserts:
We can't get away from it, BBQ is also about meat and savoury flavours in general (of course we do veggie menu options) so we don't pretend to cook desserts anywhere near charcoal…and to be fair, it's not what our chefs do best.
We work with a variety of respected local producers to add your choices of dessert and / or cheese to the menu. Moreover if you have a preferred choice of local producer for us to work with then we will be only too happy.
Reservation
To book the Qué Fresco wedding BBQ catering experience we need to discuss the following with you:-
The date for the big day
The venue
Numbers of guests attending
Your approximate budget per head
We have BBQ catering menus to suit all pockets so a after a short discussion we will be please to send you a quotation that meets your desires from both a quantity and variety of food.
Complete the rapid response form below to tell us what you need and we'll get back to you with 24 hours. Alternatively call Paul on 01744 500755.
Need A Venue?

If your vision of the perfect wedding celebration is a Summer's day, BBQ smoke, a marquee and lots of laughter with friends and family then take a close look Stydd Gardens in Ribchester. Together we can help you design your perfect day.
Click here to see our terms and conditions.
See Also:-

Gluten Free Catering
BBQ Catering Lancashire
Outdoor BBQ Catering UK