How about a barbecue pit smoker from Smith and Wesson? When pulling together my research about the different BBQ pits on the market I was really interested to learn that Smith and Wesson also manufacture barbecues.
Well they did...... but now they no longer do. To be fair I think most folks recognized that the products were badged Traeger units with nothing particularly distinctive to differentiate them the Traeger so ultimately they have been withdrawn.
Not that there was anything wrong with them, they were a good range of robust pellet grills / smokers.
Most of the questions that I get asked about these units are for spare parts so the answer is pretty simple, contact Traeger directly.
For reference purposes for those that still need spares, I'm leaving these product descriptions intact and you can click on the links to see the current equivalent model of each barbecue pit smoker as supplied by BBQ Guys.
The range was relatively small with three good sized models and a small portable suitable for a tailgate party. Considering first of all the in situ models, they are powered by electricity (110 Volts), create smoke using smoke pellets and have three heat settings dependent on whether you're grilling or smoking.
38 Special Pellet Smoker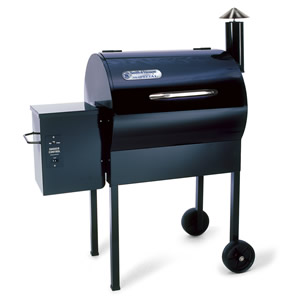 This is the smallest in the range with a BTU / Hr rating of 20,000. The grill size is 371 square inches and the cooking grill is made out of porcelain. 
The current equivalent of this model is the Junior Elite

357 Magnum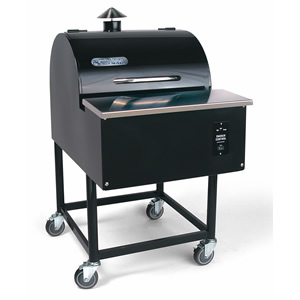 This barbecue pit came with the same 20,000 BTU / Hr rating as the model above and also the same grill area however there were some significant additions. It had an automatic starter and a front load pellet hopper with a stainless steel lid that doubles as a work surface. To finish it off the chassis was fitted with lockable castors and the unit supplied ready assembled.
There's no direct equivalent to this model now because the only unit with a front load pellet hopper is the equivalent of the 500 magnum below.
Use this link to see the full Traeger range at BBQ Guys.

500 Magnum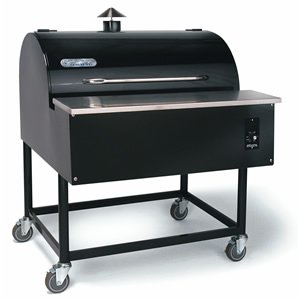 This was "the daddy" in that it has the larges grilling area at a super large 1008 square inches and a 65,000 BTU / Hr burner rating. Other than being super big it had essentially the same features as the 357 Magnum.
If bought directly from the manufacturer, each barbecue pit smoker was accompanied with1 twenty pound bag of Hickory Pellets, 1 twenty pound bag of Mesquite Pellets, 1 cookbook and 1 spice sampler. Sadly you don't get these freebies now.
The best equivalent to this unit is actually slightly bigger. You can get more information prices through this link to BBQ Guys merchant site.

Related Pages:-
Review Your Own Barbecue, Equipment And Accessories
Information about Barbecue Smokers
Information about BBQ Grills
Accessories and Cooking Equipment
Patio & Backyard Furniture


Return to Home Pages from Barbecue Pit Smoker by Smith & Wesson