Chicken Tikka Marinade For Kebabs
This chicken tikka marinade requires at least 24 hours to work its magic but preferably 48 hours.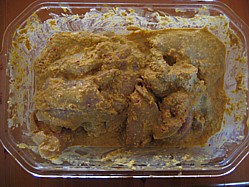 An acid based marinade only needs about 30 minutes to work its magic and leaving meat for too long can actually make the meat tougher but a yogurt based marinade like this one works in a different way and this is why you can afford to extend the marinade time. To learn more on this point read my article about the science of marinades and how they work.
You'll also see in a good dose of turmeric in the list of ingredients and it's this spice that gives the marinade its wonderful yellow colour. The yellow pigment is called curcumin which has been found to be an effective anti-mutagen against several cancer causing substances. Use this link to read more about the medicinal properties of turmeric curcumin.
I like to use it on skinless boneless chicken thighs because the end result is more succulent than breast and I always cook the whole thigh on the kebab skewer but at the end of the day it's your call. Certainly removing the skin is important because you want the marinade to penetrate the meat rather than just cover the skin but then if you want to use diced breast then go right ahead and get it in the marinade!
There's enough marinade here to cover about ten thighs.

Yield:- 2 cups

Preparation Time:- 10 minutes
Marinade Time:- 24 hours
Cooking Time:- n/a

Total Time:- 1 day

Allergens:
The only allergen in my chicken tikka marinade is sulphite which is present in bottled lemon juice. If using a freshly squeezed lemon then there's nothing to worry about.

Ingredients:-
2 Onions
5 cloves garlic
250ml or 2 cups natural yogurt
3 fresh red chillies
2 teaspoons ground ginger
2 teaspoons turmeric
1 teaspoon cumin
1 teaspoon ground coriander
Juice of 1 lemon
Method:-
Pop the peeled onions, garlic and chillies into a food processor and blitz until they form a rough paste, add the remaining ingredients and mix again thoroughly and the marinade is done.
Place the chicken thighs into the tikka marinade, cover with stretch wrap and refrigerate for 24 to 48 hours.
Two hours before cooking, remove the marinade from the refrigerator and allow the meat to come back up to room temperature.
Take the chicken out of the marinade, scape off the excess and pat it dry on some kitchen towel. This ensures that when you cook it, the outside of your chicken will crisp up, if there's too much of the marinade still on the chicken it will just turn soggy.
Skewer and grill for 10 minutes and you'll have bbq chicken tikka kebabs to die for. Serve up with naan bread and cucumber raita.
Related Pages:-
BBQ Tandoori Chicken


Naan Bread
Cucumber Raita