Gluten Free Sausages
Made In Lancashire

For my catering business I only make gluten free sausages which offers you 2 key benefits:
I don't simply treat gluten free as one more variety of sausage, it is the foundation of all my sausage recipes.
None of my equipment ever comes into contact with a gluten based ingredient so the chance of cross contamination is pretty much non existent.
I also develop and manufacture all my own seasonings using local natural ingredients.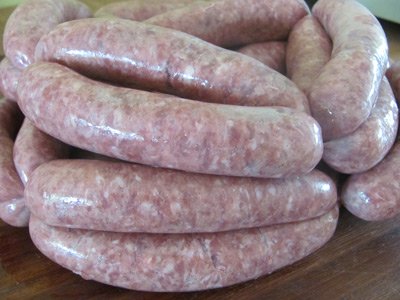 My sausages are made in Lancashire so my signature seasoning is naturally Lancashire Sausage. We use a traditional Lancashire seasoning recipe together with locally sourced Lancashire pork to produce a gluten free sausage of distinction.
The exact recipe is (of course!) a family secret I'm proud to be the current custodian of the Lancashire seasoning recipe. The flavour is distinctive and dare I say unique? Certainly it's completely different to either the peppery Cumberland or herby Lincolnshire seasonings that currently dominate our supermarket shelves.
Lancashire sausage is dark in colour and light in texture. This is in part down to the moist cuts of Lancashire pork that I blend and also because I don't add carmine colouring that you'll find in most commercially produced sausages today.
Gluten Free Sausages Ooze Quality
Because I make all my own seasonings you can be guaranteed that I don't use emulsifiers. These chemicals simply aid water retention (adding weight and therefore profit) and because I don't dilute the meat content, I don't need to add artificial flavour enhancers.

I also use a more expensive lamb casing for the skin to really enhance that melt in the mouth texture and eliminate "chewiness".

All omy gluten free sausages are full of exactly what a Great British banger should be:-
Lancashire pork marbled with a little pork fat.

Soy protein (to give it a light fluffy texture)
Pork stock (to rehydrate the soy protein and add flavour)
Home Made Seasoning
Many sausage makers will market their sausage by advertising that they only use prime cuts of meat from the shoulder or leg or belly. I don't believe that this is the right way to make sausage because:-
Sausage by tradition was made to use up all the off cuts
The ratio of lean meat to fat is very important and varies dependent on the sausage that one makes. Why then use a prime cut of lean meat only then to add fat?
After the lean meat / fat ratio it's actually the seasoning that determines whether a sausage is a quality sausage or not. Why use the prime cuts of meat and then contaminate it with rubbish and chemicals?

The following is a list of substances that many sausage makers put into their sausage to either cheapen the product or add profit. I DO NOT use any of the following substances:-
Carmine – a pink colouring that gives the impression of a higher meat content
Maltodextrin – a binding agent that gives that rubbery texture to many sausages. (Coelics should take care because maltodextrin can be derived from wheat or barley)

Stabiliser (E451) – this helps emulsify fat and also aids water retention therefore making the sausage heavier and more profitable.
Flavour enhancer (E621) – Monosodium glutamate
Antioxidants E304i & E307 – added to extend the shelf life of the product
Preservative (E221)
Low cost "pork" or filler meats such as tripe, skin, snouts, pork stomachs, lips.
As stated above, I don't add any of this rubbish to my gluten free sausages. So now you know what some butchers add and why, read the label when you next pick up a pack of sausage and decide whether you want to eat all those chemicals. After all, you have a choice.
If you're interested in hiring my catering service then please complete the rapid response form below.

Find out more about my produce by clicking on the links below:
Fresh Blood Black Pudding
Guanciale