Grilled Pineapple Rings
Desserts can be a challenge on the barbeque but these grilled pineapple rings finish off any cookout really well, they're deliciously sweet and you might even be able to argue that they relatively healthy too.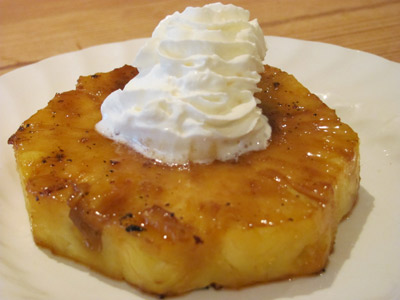 My kids just love these especially when the "squirty cream" comes out of the refrigerator – you know the stuff in the aerosol can?
As a charcoal barbeque enthusiast, grilled fruit is also a great way to finish off because you can just lay them over the dying embers and relax over your main meal happy in the knowledge that nothing's going to burn.
Do make sure you've got a fresh pineapple because this recipe really isn't the same if you're using tinned - there's too much water in them.
Fresh pineapple has the perfect texture and it's even better when it has had time on the grill to soften.
TIP:- To ensure that your fresh pineapple is ripe and ready to eat, try pulling out one of the leaves that sprout from the top. If it comes out relatively easily then the pineapple is ripe.

Serves:- 4 people

Preparation Time:- 10 minutes
Marinade Time:- 1 hour
Cooking Time:- 15 minutes

Total Time:- 1 hour 25 minutes

Ingredients:-
One fresh pineapple
1 tablespoon soft brown sugar
A splash of dark rum
Method:-
With a board and a sharp knife, peel the pineapple, slice it and remove the core – you can do this in advance and refrigerate until you need them.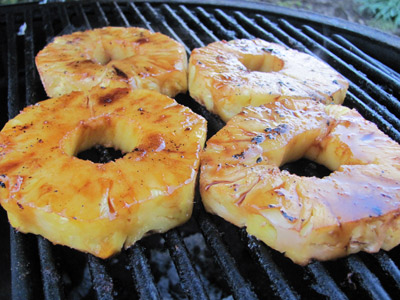 Doing it in advance is absolutely perfect because it allows you time to marinade the pineapple rings in the dark rum - give them an hour.
When you're ready to go, just lay the fruit out on the grill and sprinkle with the brown sugar and allow to warm through gently for about 10 or 15 minutes.
Don't worry about the alcohol content, it will evaporate over the heat of the grill.
When you're ready to serve simply pop a ring onto a plate (optionally spoon on a teaspoon of the rum marinade) and break out the squirty cream!
Note: - If you prefer to cut out the marinade stage you can just spay your grilled pineapple rings with dark rum whilst they are on the heat. Just be aware that any alcohol that hits the heat could potentially cause a flare up.
Pineapple Facts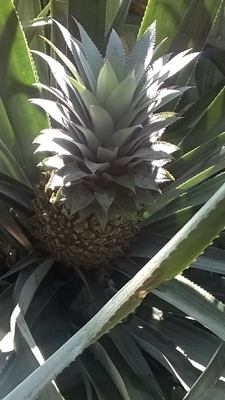 On a recent trip to Kerala, India I stayed at Dewalokam organic farm stay. It was an amazing place to stay and learn about the crops that can be grown on an Indian smallholding. Everything that was grown was used in the kitchen to feed the guests, I learned quite a bit about balancing spices from the chef and when it came to pineapples, here are my takeaway learning points:
Pineapples grow on the ground - not in trees!
A pineapple plant bears fruit for 4 years
In the first year it will bear 1 fruit
All other years there will be two fruit
See Also:-
More Barbecue Desserts
Grilled Bananas
Information About Backyard Patio Furniture