Indian Barbecue Chicken Kebabs
The herbs and spices in this Indian barbecue chicken recipe are fantastic on the BBQ grill.
This easy recipe does however call for an overnight marinade so this is for tomorrow's barbecue and I hope your not too disappointed.
If however you want immediate Indian spice then click here for my dry rub recipe.

It's also worthy of note that this is a yogurt based marinade which some argue is the only true marinade to tenderise meat. Use this link to learn more about the science of marinades.

Allergens:
It's fresh ingredients all the way so no allergens to worry about.

Serves:- 6 people (1 skewer as an appetizer)

Preparation Time:- 30 minutes
Marinade Time:- overnight
Cooking Time:- 10 minutes

Total Time:- 1 day
Ingredients for the marinade:-
120ml or 4 fl oz pineapple juice
1 tsp cumin, coriander, chili powder, salt
1 clove garlic crushed
2 tablespoons yoghurt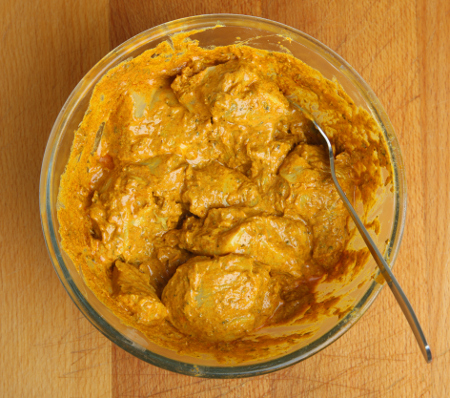 Method:-
Mix up all the ingredients for the marinade and throw in the diced chicken (see the ingredients list below). Cover with some stretch wrap and leave in the refrigerator overnight.
Note that the diced chicken can come from any part of the bird, breast looks the nicest but I think the thigh produces more tasty and juicy results. Whichever you go for, just remember to take the skin off so that the marinade has the opportunity to work on every available surface of the flesh.
On the day of cooking remove the marinade from the refrigerator 2 hours prior to cooking so that your chicken can come back up to ambient temperature.
(If using bamboo skewers for the kebabs, don't forget to soak them for at least 30 minutes before cooking.)
Ingredients for the Kebabs:-
225g or 10 oz diced chicken
1 yellow pepper cut into squares
1 large onion cut into wedges
6 cherry toms
1 small fresh pineapple cut into chunks
1 tablespoon chopped fresh coriander (cilantro)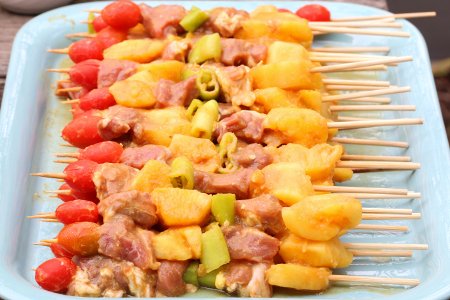 Method:-
Remove the chicken pieces from the yoghurt marinade, place them on a paper towel and pat dry - this ensures that you get the flavour of the yoghurt marinade in the cooked meat and not a soggy coating of curdled yogurt on the outside of your meat.

Using the ingredients above make up 6 skewers with alternate chicken and vegetables and vary the vegetables to add the colour.
Place the kebabs on medium coals on the barbecue grill for about 10 minutes, turn occasionally.
To serve, sprinkle on the fresh coriander. Technically I guess indian barbecue chicken should be served with either naan bread or chapattis but if you haven't got time to make these then try a pitta bread with a bed of lettuce and a little cucumber raita. A squeeze of lemon juice to finish off.
Related Pages:- Barbecue Lamb Shish Kebab
Information about Skewers and other BBQ Equipment
Barbecue Cooking Tip - How To Peel Garlic