European Outdoor Chef Ambri 480 Gas Grill Review
If you've never heard of the European Outdoor Chef Ambri 480 then I'm not surprised. The marketing of this brand is a shambles but that's a million miles away from the ingenuity of this gas grill.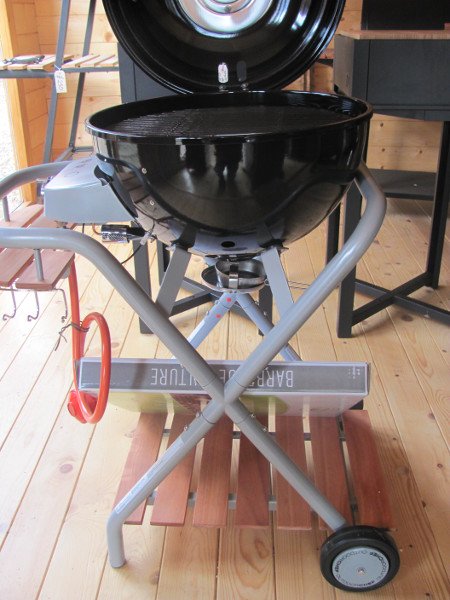 Star Rating
★★★★★ - Despite the shambolic promotion of the Outdoor Chef Ambri, fans of this grill (or it's predecessor) just keep coming back for more.

Assembly
With a total weight of 20kg assembly is easily accomplish by a single person. As you'd expect the main grill is in one piece and the challenge is to assemble the tubes to make the frame of the stand. Instructions are good and to be honest it was pretty intuitive so job done in less than an hour.

Features
Now the European Outdoor Chef Ambri looks similar to a Weber charcoal kettle but if you thought this then you couldn't be more wrong.
This little baby is gas fired and the real fascination comes when you see the internal conical shaped heat deflector funnel. There are in fact 4 different configurations for indirect cooking that you can set up and each configuration channels the heat in a different manner around the inside of the "kettle".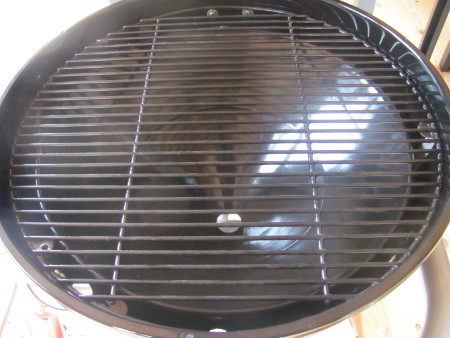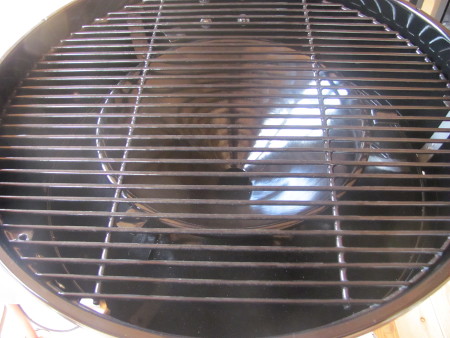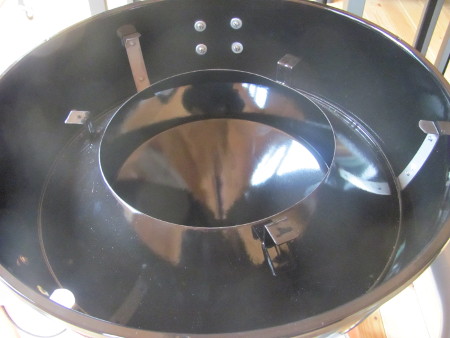 Being gas fired it's clean and the heat deflector funnel provides versatility of cooking styles, it's a bit of a cross between a ceramic kamado and a kettle... on gas.
Despite the standard kettle having a hook in the lid so you can rest the lid while tending the food I always find this frustrating and more often than not throwing the lid on the lawn and making a circular burn mark. The Ambri has a hinged lid - love it!

It was interesting talking to the guys who lent me this unit for the review. They found that the most common buyers of the Outdoor Chef range were folk that had bought an Outdoor Chef 20 years ago and were now looking to upgrade.
Well they must be doing something right if a loyal band of followers keep coming back for more, and if you ever need proof about the long lasting build quality then this is it.

Specification
Here are the basic facts and figures for the Ambri:
Cooking grate diameter: 45 cm
Cooking height: 82 cm
Weight: 20.0 kg
Dimensions in cm: H 105 x W 60 x D 75
Burner output: 5.4 kW
Single burner system with electric one-touch ignition
Rotatable EASY FLIP funnel for direct and indirect grilling
Painted steel X-frame stand with front shelf and tool holder
Wheels at one end to provide wheelbarrow style manoeuvring
Hinged lid

Note: Outdoor chef also make the Ascona which is a similarly specified gas grill with a dual burner and a larger 570mm diameter cooking grate.

Verdict
It's so versatile in terms of how you can channel the heat and it retails for £299. If it's a gas grill that you want then what's not to like?
For sure it's not a Charbroil Imperial but then it doesn't have the price tag either. The Outdoor Chef Ambri is going to give you lots of fun for a comparatively small price tag.

Where To Buy
Our review model was supplied (and discounted) by BBQ Land in Hitchin, Hertfordshire.

See Also:-

Kamado Cooking
Wood Pellet Smokers
Grill Reviews
Meat Smokers


Return Home from European Outdoor Chef Ambri 480 Review 2018