Finding The Right Patio Umbrellas
Finding the right patio umbrellas is actually more difficult than it might first appear.

As we learn more about the harmful effects of the sun's radiation, patio umbrellas are now a "need to have" rather than just a "nice to have".
And to be fair, whether you're the backyard BBQ chef or simply a guest at a barbecue party it's always much more pleasant cooking and dining outdoors away from the direct intensity of the sun.
You might think that umbrellas are just like one another but there are some key features that you will want to consider when thinking about buying a new one.
What Features Should You Consider?
Frame
Wood or Aluminum – Wood looks the part and is best for something that's going to be permanently in situ. The disadvantage of wood is both the weight and also how good is it going to look in a couple of years time? Wood needs to be maintained. If you're looking for something more portable and maintenance free then check out aluminum frames.
Lift
How does the umbrella go up and down. It could be a simple push and click into place or a more elaborate pulley system where you pull on a rope and when the umbrella is up, secure it with a pin. These systems are fine and work well provided your umbrella isn't too big.
The most sophisticated is a crank system where you turn a level located on the shaft of the umbrella, a must for the larger heavier models. We find that anything over 9 ft needs a crank system, that's not just because we are weaklings, there's been a number of occasions recently when we've had muscular strains when trying to put an umbrella up.

Tilt
This will help maximize the amount of shade that your umbrella delivers and there are three options:-
Auto – Uses the crank to gently tilt and is therefore fully adjustable.
Push Button – Push the button in, the umbrella will tilt and release the button at the desired angle.
Rotation – Tilts by gently rotating one of the ribs.
Fabric
Most fabrics are focused on durability and colorfastness when exposed to the elements. There are 5 main fabrics to choose from:-
SolarVista is 100% 7 oz solution-dyed acrylic fabric designed to lock in colors. It's water repellent as a result of a finish that is applied to the fabric. Normal wear and usage will reduce the effectiveness of this finish as will cleaning the fabric. SolarVista patio umbrellas, if kept clean, will not mildew.
Olefin is a weather & sunlight resistant durable 8 oz solution dyed fabric.
Spun Poly is a type of polyester designed for high strength, uniform quality, colorfastness and smoothness.
Sunbrella is 100% solution-dyed acrylic fabric which because of the dying process, color can't wash out or fade. The fabric has a water repellent finish that if kept clean will not mildew. Sunbrella fabrics have been tested and proven to provide up to 98% UV protection from the harmful effects of the sun depending on depth of color and it is also a slightly heavier fabric than those above.
Coolaroo's "Open Weave" is an open-weave knitted outdoor fabric containing millions of tiny holes that allow air to flow freely through. The benefit is that it keeps you cool by reducing temperatures under the umbrella by up to 32% versus direct sunlight yet at the same time providing protection for the sun's harmful UV rays.
Shade Size

In today's climate and sensitivity to skin cancer and sun burn you will want to consider the size of the umbrella and ultimately what shade size it provides. Your shade size should be at least 5 feet more than the dining area you want to protect.
You would expect the quoted size of an umbrella to equal the diameter but this is not the case. Most manufacturers measure the size from one end, over the top and down to the other end.
As a general rule of thumb:-
30 inch table will need a 6–7ft umbrella
36 inch table will need 7.5–8ft
48 inch table will need a 9ft umbrella
54-72 inch table will need between 9.5-11ft
up to 96 inches will require a 13ft umbrella
Offset Patio Umbrellas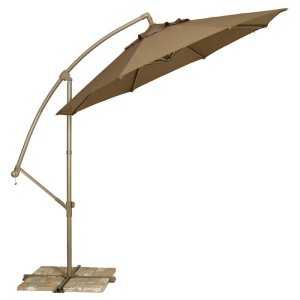 Also referred to as cantilever patio umbrellas, these have to be the ultimate because they offer great flexibility and convenience. The main points are that they are free standing so there's no need for the extra cost of an umbrella stand and also because the pole is to one side, you have the freedom to position the umbrella where you want to maximize shade or simply to ensure that the view isn't interrupted. Perfect for the barbecue chef!
Patio Umbrellas On Sale

Click here to see the range of patio umbrellas supplied by Amazon

Every item you purchase from Amazon contributes a small commission to this site thus helping us continually improve the quality of tips, advice and recipes available for your enjoyment.

Umbrella Care
When not in use the best way to protect your umbrella from the elements is with a cover and all the stores above provide covers.
See Also:-

Outdoor Dining Furniture
Solar Lights
Patio Heaters