Pit Barrel Cooker UK Review
Star Rating
★★★★★ - The Pit Barrel Cooker easy pitmaster results without faff, a simple but effective cooking system, cracking build quality.

How to make great barbecue as easy as 1 2 3. The Pit Barrel Cooker is a unique but special barrel cooker from the USA that gives easy pitmaster results without the faff of fiddling, harnesses a simple but effective cooking system, and features excellent build quality for the price point.
Before we go any further, allow Pit Barrel to blow away some of the myths (or maybe it's my own BBQ snobbery) and here's the 1 2 & 3 again:
1. It's just a barrel – WRONG!
2. Low and slow is always better – WRONG!
3. I need to continuously tend my pit for perfect barbecue – WRONG! 
Summary
I've had my Pit Barrel Cooker for 5 years now, sourcing one in the UK was quite a challenge back then and availability of the accessories anywhere in Europe was pretty much non-existent but I'm happy to report now that the Pit Barrel Cooker is much more widely available in Europe. This is key for after-sales service and support and no barbecue would get a 5 star rating from us unless we know that this criterion has been met right here in UK & Europe and not just in hometown USA.
Background
Barbecue is one of those things not invented in the States, some claim barbacoa from the Mayans, some say it's digging pits in the Pacific Islands, who knows for sure but when it comes to today's barbecue, the USA is synonymous for low and slow big hunks of meat dripping onto coals, pitmasters painstakingly spending hours overnight tending to fires, feeding glowing coals into purpose built "pits" or offset fashioned barrels welded together. This image may appeal to some but for most of us there's thankfully an easier way to recreate much of this without the hard work and it's called the Pit Barrel Cooker! 
My American friends are very good at talking the talk and it was the forever repeated mantra by this family owned business that peaked my curiosity…"Simply cooks some of the best food you've ever tasted, with no hassle, due to the 360º All-Round Heat Dynamics". One way or another I had to prove it right or wrong and having purchased my Pit Barrel Cooker I was soon to be shown that everything they say is very much true.
Build Quality
It looks pretty similar to a 30 gallon steel barrel, but that's where the comparison between a garden incinerator or a cheap supermarket £50 offset 'barrel' smoker ends. The Pit Barrel Cooker is 18 gauge steel that is porcelain enamel coated, so we're talking stove style finish, not merely a thin powder coating or high temperature paint, this barrel will last, and mine (going on 5 years old) still looks good and continues to put out great food. 
If I have one small gripe over the hardware it is having to lift the thing to empty out any ash the ash catcher doesn't manage to contain, but to be honest this isn't necessary every cook, maybe every 5 or so, so it's hardly a deal breaker.
Set Up
The Pit Barrel Cooker comes with everything you need in the box, and you simply screw on the horseshoe handles, insert the rebar rods and you're ready to go. There's a plethora of accessories, some more important than others, and although not necessities the ash pan (for much easier clean up), the chimney starter (to ensure a correct and stable temperature throughout the cook), and cover (because this is Britain!) are really the most important to add to the PBC experience in my opinion. 
Here is the PBC set up with the ash pan in situ.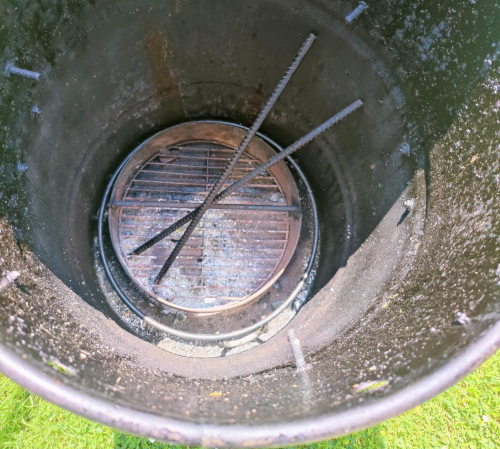 The custom designed chimney starter is important to get the right amount of coals lit from the start and safely poured into the cooker so that the air flow system design can maintain the correct temperature range. The bottom vent is the only thing to adjust on the first setup (which is based on altitude), I am fairly low down to sea level, so a crack open is perfect for me and there are good diagrams to illustrate how to set this aperture for other altitudes.
Once set, cooking temperature remains stable for hours without having to adjust a thing or check temperature gauges. To be fair, it took a couple of tries to get used to at the beginning, but it is a short, shallow learning curve. Just follow the many informative videos Pit Barrel have and from there on out it really is "set and forget" charcoal cooking with absolutely no need for expensive electronic gadgets (which could set you back more than the cost of the entire Pit Barrel!) 
More Time To Hang Out
Another of the slogans highlights the "hook and hang" cooking method, which again I had my doubts about. Hanging things like ribs so close to the fire with no deflector plate or similar to shield the direct heat seemed wrong, but I trusted their instructions and sure enough it works! To be fair there was a little more bark formation on ribs at the end closest to the fire, but absolutely no burnt tips.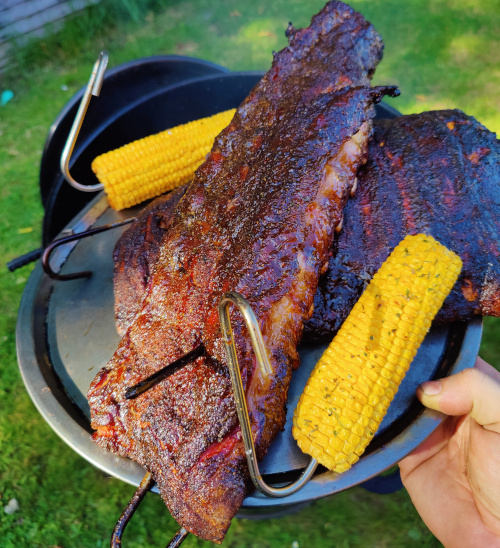 The science behind it is like the difference between holding your hand flat over a fire versus holding your hand vertically. Add in a spherical air flow environment where the heat is dispersed around the ribs and hey, it works a treat.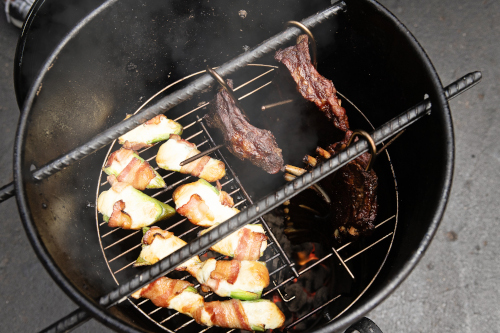 Should you not wish to hang, a grate is also included in the package so for things like wings or even reverse searing steaks, the flexibility is there. For veggies and smaller items there are also several hanging baskets available as optional extras to ensure nothing gets through to fall on the fire. I'd even say that the all-purpose basket hangar in my Pit Barrel is now my "go to" method for veggie roasting which is something that I do a lot of.
Tips 'n' Techniques
There are loads of techniques to talk about and the Pit Barrel website has an excellent video library of instructional and inspirational methods and recipes for you to try so definitely check that out. In terms of fuel, Pit Barrel Cooker USA had a partnership with Kingsford charcoal for years but more recently they have become more open to other fuels. We have wonderful UK produced lumpwood charcoal in the UK, and whilst I can use this on my Pit Barrel Cooker it does open me up to a cursory check on the fire every so often as lumpwood is uniquely shaped and dense. Briquettes give a more uniform, stable cook and I have found sustainably sourced briquettes with no nasties such as Green Olive Firewood very good and deliver very similar results to what I've seen in the Pit Barrel Cooker videos that use Kingsford briquettes.
Price
The Pit Barrel Cooker is really in a place of its own, I bought mine for £349 in 2016, and I added the ash pan optional extra, chimney starter, and cover. At the time of writing this article (2021) the new prices remain remarkably competitive at £395 in the UK and €475 in the EU for what is a barrel style cooker far and away cheaper than a Gateway with ultimate simplicity. 
Alternatives To Pit Barrel Cooker
Competition-wise you might want to consider bullet smokers such as the Weber Smokey Mountain, Pro Q and Fornetto which come in at a similar, if not slightly higher price points, but all these others are just not as simple and hassle free as a Pit Barrel. In addition I would suggest you're going to lose some of the flavour with the water pan concept rather than the open charcoal, direct circular convection & Pit Barrel hanging method. And what about pork crackling?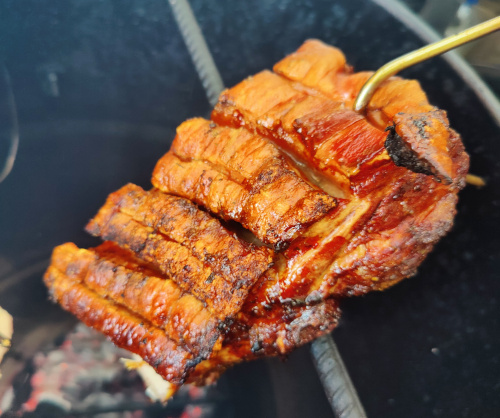 Pros
Easy set and forget charcoal food hanging cooking.
Excellent long lasting build quality for a very reasonable price.
Lots of accessories to suit your cooking style whether it is American style barbecue or more British and European foods.
Gives that live fire cooking theatre and experience without the fire maintenance and is efficient on fuel (lumpwood or briquettes).
It's a cooker rather than a smoker so cooking times are vastly quicker than a low and slow smoker, and in my opinion a better result.
Cons
Basic design means that refilling with charcoal means taking everything out to get to the charcoal basket. That said, rarely have I needed to refill.
It is by no means rooted to one spot, but it isn't supremely portable, and that's where the Pit Barrel Junior steps in (£295 / €395).
Verdict
There's nothing quite like a Pit Barrel Cooker, it punches well above its weight in the quality of the food it produces and I've been hooked (no pun intended!) for going on 5 years. If you want authentic charcoal cooking with simple, hassle free process then Pit Barrel Cooker is right on the money. The price, quality, longevity, ease of use and brand service back up combination make the Pit Barrel Cooker very hard to beat. 
Further Information
The Pit Barrel Cooker Company is owned by Noah and Amber Glanville and is based in Louisville, Kentucky. You can find out more information from the Pit Barrel website.
The range consists of the original Pit Barrel Cooker (as featured in this article) and the more portable Pit Barrel Junior, both of which are available in the UK and EU zone.
To top off the range, 2022 is going to see the launch of a large catering version called the Pit Barrel X.