Pork Scratchings Or Pork Cracklings Recipe
This could be a pork cracklings recipe or it could be a pork scratchings recipe depending on the part of the world that you live in.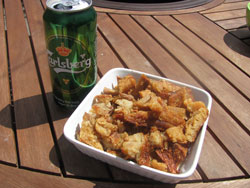 Whatever the case these naughty crispies taste fantastic and can be served either as an aperitif or as a bit of extra crunch in your salad. I did mine in my kamado, you can too or use a smoker or dare I say it, you can even do it in your oven. To get the perfect crisp without burning I found that running my kamado at about 150°C or 300°F was about bob on.
The basic ingredient is pig skin with not too much fat on it. At the wholesale level its a waste product which usually gets sold on into other industries such as the manufacture of gelatin for gummy bears.
Your butcher is the best place to source pig skin although you might get charged for it. The other way to source pig skin is to buy your pork butts (shoulders) skin on when preparing pulled pork and trim the skin yourself.
You can freeze the skin and use it when you want, just make sure that it is properly thawed out before you start the preparation and dry off any moisture with paper towel.

The next job is to bury your pork in sea salt for five days so don't go thinking that you can do this one for tonight's cookout. I usually start the first stage of this pork cracklings recipe the weekend before I plan to cook.
Serves:- Not many, it's too tasty!

Preparation Time:- 10 minutes
Marinade Time:- 6 days
Cooking Time:- 3 hours

Total Time:- 1 week

Allergens:
None.

Ingredients:-
Pig skin (I used pork belly because it needs to have some fat attached)
Duck fat
Sea salt
Method:-

Your pork skin doesn't have to be all in one piece so first of all cut it down into manageable strips and trim off any excess fat. Leave about ½cm (¼") cover of fat.

Get your shallow marinade bowl and cover with a layer of the sea salt. Now lay your pork skins on top, cover with more sea salt and then refrigerate for at least 5 days.This dry curing process will leech a large amount of moisture out of the skin.
When the five days are up, rinse the skins under the tap (faucet), discard the salt and soak your skins for a further day in water. Once this is complete, you're ready to cook.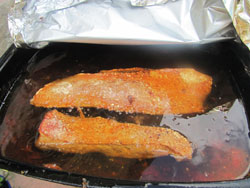 Take an oven roasting tray, place your skins in it and then cover with duck fat. Pop this into the kamado / smoker / oven for 2½ hours at 150°C or 300°F until the skin looks golden brown.
Now here's the messy bit. Remove the skin and allow it to cool (do the same with the duck fat until it has solidified. Now paste some of the duck fat onto the pork skin (did I say that this pork cracklings recipe isn't the most healthy?) and you've reached steady state where you can store the cracklings for a while, in fact you can keep it like this for in the refrigerator for a good while.
When you're ready to cook, get your smoker oven back up to 150°C or 300°F and place the skins (together with the fat) onto the cooking grate with a drip tray underneath and cook directly for about 30 minutes checking occasionally to ensure that they don't char.
You should now have puffed up skin that is dry and brittle.
Note:- Duck fat is a wonderfully flavourful fat to cook with and the best bit is that when finished you can pot it up, put it in the freezer and use it again.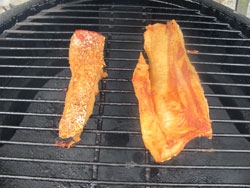 Finally, chop up the crunchy strips on a board with a heavy knife and enjoy your pork scratchings (or is that cracklings?) either just as they are or sprinkle them onto your salad.
If needed, season them with a few flakes of sea salt.

See Also:-
BBQ Pork Recipe For Souvlaki
Perfect Pork Crackling


Return to Recipes Home from Pork Scratchings Or Pork Cracklings Recipe