Le Creuset Portable Charcoal Grill
A great many people have asked me for more details about my Le Creuset portable charcoal grill. It's now over twenty years old, sadly no longer made, but still full of life and serves me extremely well when I go on holiday.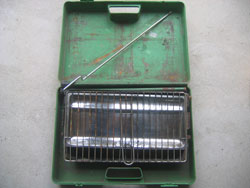 It all packs up neatly into a plastic box and the component parts are:
A cast iron base with a 90 degree hinge mechanism
Stainless steel cooking grate that doubles as the charcoal cage in the rotisserie position
Stainless steel back plate (when grilling) that acts as the drip tray in the rotisserie position.
Two cast iron side plates that have little notches in to allow the grill to be raised or lowered to suit the heat of the charcoal
Four steel legs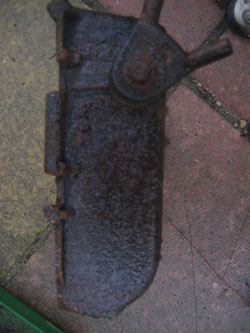 The rotisserie and motor unit It assembles really easily, just insert the legs into the cast iron base, the fold the sides into position and secure with the stainless steel drip tray. After that it simply about deciding whether to grill or to spit roast, placing the grill in the appropriate position and slotting the cooking grate into position.

My friend Stuart designed a pop riveted improvement that allows the cooking grate to be raised even further – a godsend when cooking particularly fatty foods on a good heat.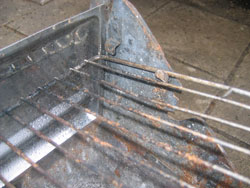 The secret of its longevity is the quality of the cast iron and stainless steel, if there is a weakness it's in the mild steel legs and I've had to treat these in the last year.
I guess this barbecue has been a victim of its own success, top quality therefore expensive compared with a cheap kettle grill and because of its longevity, no repeat sales.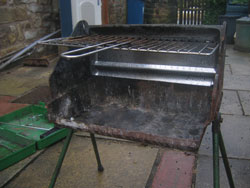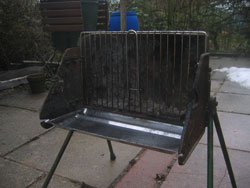 ---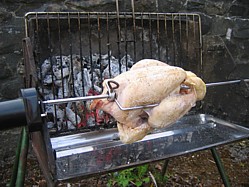 It's a great design and such a shame that it's no longer available. Now that we design and make our own range of charcoal grills we have considered making a copy in stainless steel.
To enhance the design it would be interesting to see if we could incorporate a lid so that you could smoke on it too but given the cost draw-backs would anyone buy one?
Ultimately the answer to that question has to come from you. If you'd like us to try and build a prototype then please get in touch by completing the rapid response form below.

See Also:-
Meat Smokers
Barbecue Grill Comparisons
Barbecue Accessories And Gift Ideas