Scottish Lorne Sausage Recipe

A traditional Scottish Lorne Sausage recipe should be all about beef. As it's name suggests the origins of this square sausage are in the now extinct "Lorne" region of Scotland (now part of Argyll & Bute).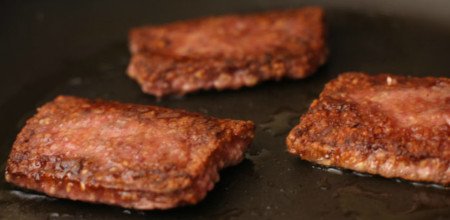 So now you've probably looked at the photograph above, worked out that there's no casing and also figured from what I said above that it's square (oblong before being sliced) and flat too.
In fact there maybe many of you already shouting at me that it's a sausage patty and I can't argue. All I will say however is that the Scottish Lorne sausage is quite possibly the original and the daddy of them all. You may also hear it described as a "flat sausage" or a "butchers slice", served for breakfast between two slices of bread, no butter, no sauce, no nothing, it's just a beefy Lorne sausage slice and it tastes delicious!
To cut it down to basics, it's a ground beef sausage meat that was originally moulded in a rectangualr metal tin (I use a loaf tin) to form an oblong with square cross section.
The oblong is then turned out and sliced to give a flat sqaure slice that is about 1cm (½ inch) thick.

Making Scottish Lorne Sausage
As is typical of many sausage from the British Isles (see my English Breakfast Sausage recipe), the Scottish Lorne sausage contains pinhead rusk which you can buy in bulk from a butchers supply store. For small quantities the best alternative is to substitute with Japanese Panko breadcrumb.
The beef used in my Scottish Lorne Sausage recipe is what butchers would refer to as 70/30 visible lean beef. This is a standard "trim" that any butcher can buy from their wholesaler and what it means is that the meat is supplied in chunks of which 70% is lean beef and 30% is fat. Ask your butcher, you may be able to buy this type of trim directly from him / her or it may need to be made up but the bottom line is 70% beef and 30% beef fat. For ease I've broken my recipe down in the ratio 67% to 33%.

Yield:
This Scottish Lorne Sausage recipe makes about 1.1kg (2½lbs) which will fit into a standard 2lb loaf tin.

Allergens:
Technically nutmeg isn't a nut, it's a seed so those with a nut allergy may not have problem with nutmeg, but it may affect those with a seed allergy. My Scottish Lorne Sausage Recipe contains nutmeg so please avoid if you have an allergic reaction to nutmeg.
Ingredients:-
500g (1lb) lean beef
250g (½lb) beef fat
150g (1¼ cups) pinhead rusk or Japanese Panko breadcrumb
200g (¾ cup) chilled water
2 teaspoons salt
1½ teaspoon ground coriander
1½ teaspoon ground black pepper
½ teaspoon grated nutmeg
Method:-
If not already done so, cut the beef and beef fat into 2cm (1") cubes and grind using a 5mm plate.
Mix the dried ingredients (not the rusk/breadcrumb) in the water to create a slurry and then add to the ground beef.
This is the important bit! Get ready for a serious workout! Vigorously mix the seasoning slurry into the ground meat firstly to ensure that you have a good distribution of seasoning and then continue to work it until the beef starts to get sticky.
This stickiness is the myosin protein being released from the beef and this proteins helps emulsify (bind the water to) the mix and is vital to texture and succulence of the cooked sausage.
Once you're happy that you've got a nice sticky mix, add the rusk / breadcrumb and knead well.
Line a 2lb loaf tin with stretch wrap, drop the sausage meat mixture in and refregerate for 24 hours to let it set.
When you're ready to cook, turn out the tin, remove the stretch wrap and cut into 1cm (½") slices.

Cooking Lorne Sausage
So now it's time to light the grill (yes, you can cook the slices in the frying pan if you wish), you can either grill over direct heat or use your plancha. About 5 minutes on each side and Bob's your uncle!

There is no garnish, no sauce, Scottish Lorne sausage is traditionally served as you see above. Just slap a slice in a white roll and take a bite!