Crock Pot Or Slow Cooker Barbecue Chicken Recipe
This crock pot or slow cooker barbecue chicken recipe will blow away the winter blues. There's many recipes out there that involve bottled ingredients and those that know me by now will know that for me – fresh is best.
Set it off in the morning and after a cold day out, return to lovely chicken in BBQ sauce. The sauce goes really well with baked potatoes too, just halve them and ladle it on……fantastic!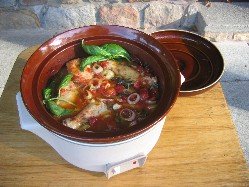 We're simply going to cook the chicken in a traditional barbecue sauce seasoned with some fresh basil. If you can't get fresh basil then substitute with ½ teaspoon of dried basil.
I'm using four pieces of chicken, so clearly there's enough to serve four and I'm going to brown the chicken prior to putting it in the slow cooker.
Note: Browning not only adds color, it also adds flavor and according to the Maillard reaction, browning only occurs at temperatures in excess of 300°F or 150°C. These sorts of temperatures will never be reached in the slow cooker alone hence the browning will be done in a frying pan prior to the slow cooking stage.
Serves:- 4 people

Preparation Time:- 15 minutes
Cooking Time:- 6-8 hours

Total Time:- 6-8 hours

Allergens:
The only allergens are those in the Worcestershire sauce (fish and gluten).

Ingredients:-
4 Chicken pieces
1 400g or 14oz can chopped tomatoes
2 onions chopped
1 clove garlic chopped
50ml / 2 fl oz white wine vinegar
3 tablespoons brown sugar
1 tablespoon Worcestershire sauce
1/2 teaspoon salt
Handful of basil freshly chopped (keep some in reserve for garnish)
Olive oil for frying
Method:-
Heat the olive oil in a frying pan gently and then place the chicken pieces in the pan for about 5 minutes to brown the skin.
Put the chicken pieces in the slow cooker and then add all the other ingredients. You don't have to worry about mixing the sauce in advance, this will happen naturally during the cookout. Place the lid on the crock pot and cook on "low" for 6 to 8 hours.
Serve and garnish your slow cooker barbecue chicken with a couple of extra leaves of basil. (Leave these basil leaves whole so that they maintain their texture and color - if you chop basil, it will quickly discolor and go flaccid.)
Enjoy!
Related Pages:-
A Great Tip For Peeling Garlic
More Slow Cooker Recipes
Delicious Barbecue Chicken Recipes

Return to Barbecue Smoker Recipes Home Page from Slow Cooker Barbecue Chicken