Easy Smoked Salmon Chowder Recipe
It's definitely the easy smoked salmon chowder recipe because you can cook it in under 30 minutes, especially if you dice the potatoes really small.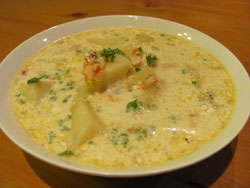 I love chowder, a really hearty soup made for those cold winter days.

TIP – As you ladle the soup out into bowls you want the potato (and salmon) to break the surface like an iceberg and for this you need a potato that's firm when cooked. These potatoes are referred to as waxy potatoes (as opposed to floury potatoes) and the most commonly grown waxy varieties are Charlotte and Maris Peer. Avoid varieties such as King Edward, Estima, Maris Piper & Desiree.
The speed of this recipe is dependent on how small you dice your potatoes because it's the time taken to soften the potatoes that is the limiting factor. I generally go for a dice of about ½ inch or 1cm.
If you have a bit more time and want to create a thicker chowder, remove half the potato when cooked, blitz in a food processor and then return to the pot. It's a little more washing up but well worth the trouble.
Once final point to note. There's a lot of salt in smoked salmon (that's why it's such a perfect base ingredient to any recipe) so I add no more salt to the smoked salmon chowder.
Serves:- 4 people

Preparation Time:- 15 minutes
Cooking Time:- 25 minutes

Total Time:- 40 minutes

Allergens:
The first allergen is obvious, it's the fish. The other allergen to be wary of is gluten which you will find in some stock cubes, of course if making your own stock then you don't need to worry on this point.

Ingredients:-
1 large onion finely diced
750g potatoes finely diced
350 ml milk
150ml double cream
500 ml chicken Stock
240g smoked salmon cut into strips
Freshly ground black pepper
Handful freshly chopped parsley + 4 sprigs for garnish
Butter to fry the onion
Method:-
Gently fry the onion in the butter for 3 minutes until they start to turn translucent, then add your diced potatoes, milk and stock. Bring to the boil and simmer until the potatoes are very tender – this should take about 15 minutes.
Flake in the smoked salmon, season well with pepper and heat it through almost to boiling. Then take it off the heat, stir in the cream and serve immediately into warm bowls.
Sprinkle on the chopped parsley and place a parsley sprig on the top of your potato "iceberg".
See Also:-
Smoked Salmon Lasagne
Smoked Salmon Pasta Recipe
Smoked Salmon Mousse
Smoked Trout Pâté
Smoked Fish Recipes