Sourdough Pretzel Recipe Baked On The Kamado

By Martin Sviba
This sourdough pretzel recipe baked on the kamado BBQ grill just elevates any regular recipe up a notch (or two).
I love baking from sourdough. There's no denying that the flavour of real, naturally leavened sourdough bread is unlike anything that can be made with baker's yeast! It has a full, slightly tangy, and downright irresistible flavour which adds so much taste to any type of bread as it's so versatile.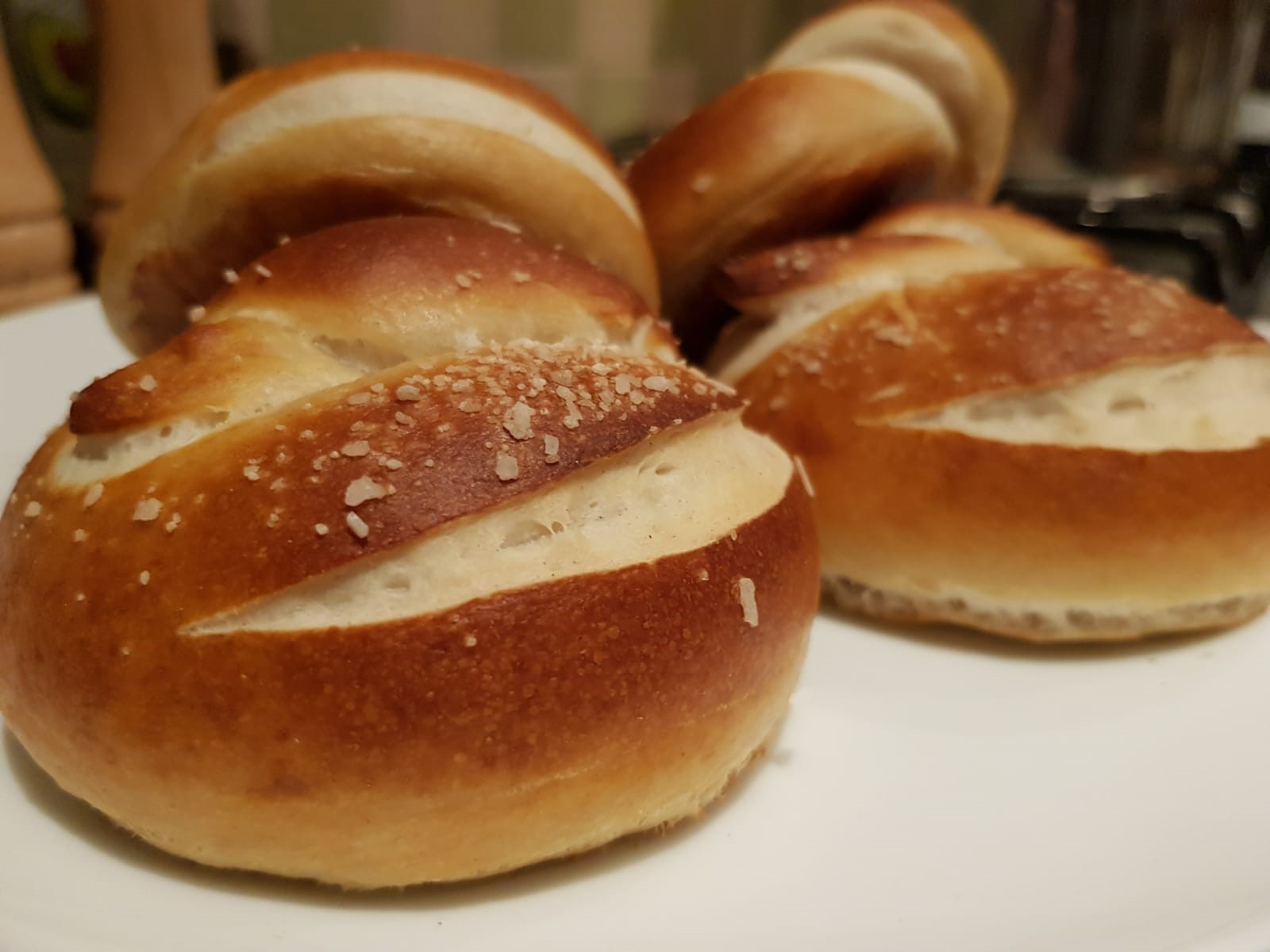 At this moment I have a 17 year old sourdough starter which has an absolutely lovely depth of flavour. If you aren't so lucky, you can make your own from the Great British Chefs recipe website and in under a week have a fully working sourdough starter. When the starter is kept right by feeding properly it will last for many years.

Using sourdough starters as a bread leavening agent goes back thousands of years, whilst baker's yeast dates back less than 150 years. A case in point, one of the oldest sourdough breads dates from 3700BC and was excavated in Switzerland.
The preparation of sourdough begins with a pre-ferment (the starter), a fermented mixture of flour and water, containing a colony of microorganisms including wild yeast and lactobacilli (non-spore-forming bacteria). As it ferments, sometimes for several days, the volume of the starter is increased by periodic additions of flour and water, called 'refreshments'. As long as this starter culture is fed flour and water regularly it will remain active. Storing it in a cold place i.e. a fridge will put it into hibernation.

My original recipe is from a Slovakian website for baking with sourdough. Make sure your sourdough is strong enough to be able to make the dough rise, which happens when fed properly, ideally every 3 days. It will then double in size a lot quicker.

Serves:- 8

Preparation Time:- 12 hours depending on temperature for proofing dough
Cooking Time:- 18 minutes

Total Time:- 12+ hours

Allergens:-
Ingredients:-
Pre-ferment dough:
1 ½ Cups or 160g Strong bread flour
½ Cups or 105g Milk
1 ½ Cups or 140g Sourdough Starter

Main dough:

3 Cups or 340g Strong bread flour
¾ Cup or 180g Milk
1 tablespoon Vegetable Oil
1½ teaspoon of salt

Lye Poaching Liquid:

6 Cups or 1.5 litres of water
½ Cup or 100 g of soda bicarbonate
Decoration sea salt
Method:-
First job is to make the pre-ferment (or Bloom) and let it ferment until the morning, well at least 6 hours. So place your starter in a bowl and add the milk, mix thoroughly and then add the flour and combine till a ball forms. Slightly oil the dough ball and place in a bowl with a tea towel over the top. Leave in a warm place.

In the morning, add the other ingredients and mix the dough with a mixer. Cover the dough and let it rest for 2 hours. After two hours, remove the dough, place it on a mat and mix it with your hands. It shouldn't have a sticky texture when touched (like Plasticine), and it should be easy to work with.
Divide the dough into 8 equal parts and form into small bun like shapes by rolling under the palm of your hand. Allow it to rest for 10 minutes. By the time the last one is shaped, the first one will be relaxed enough to shape. Roll the dough out into a long length of about 50cm with the centre being thicker than the 2 ends.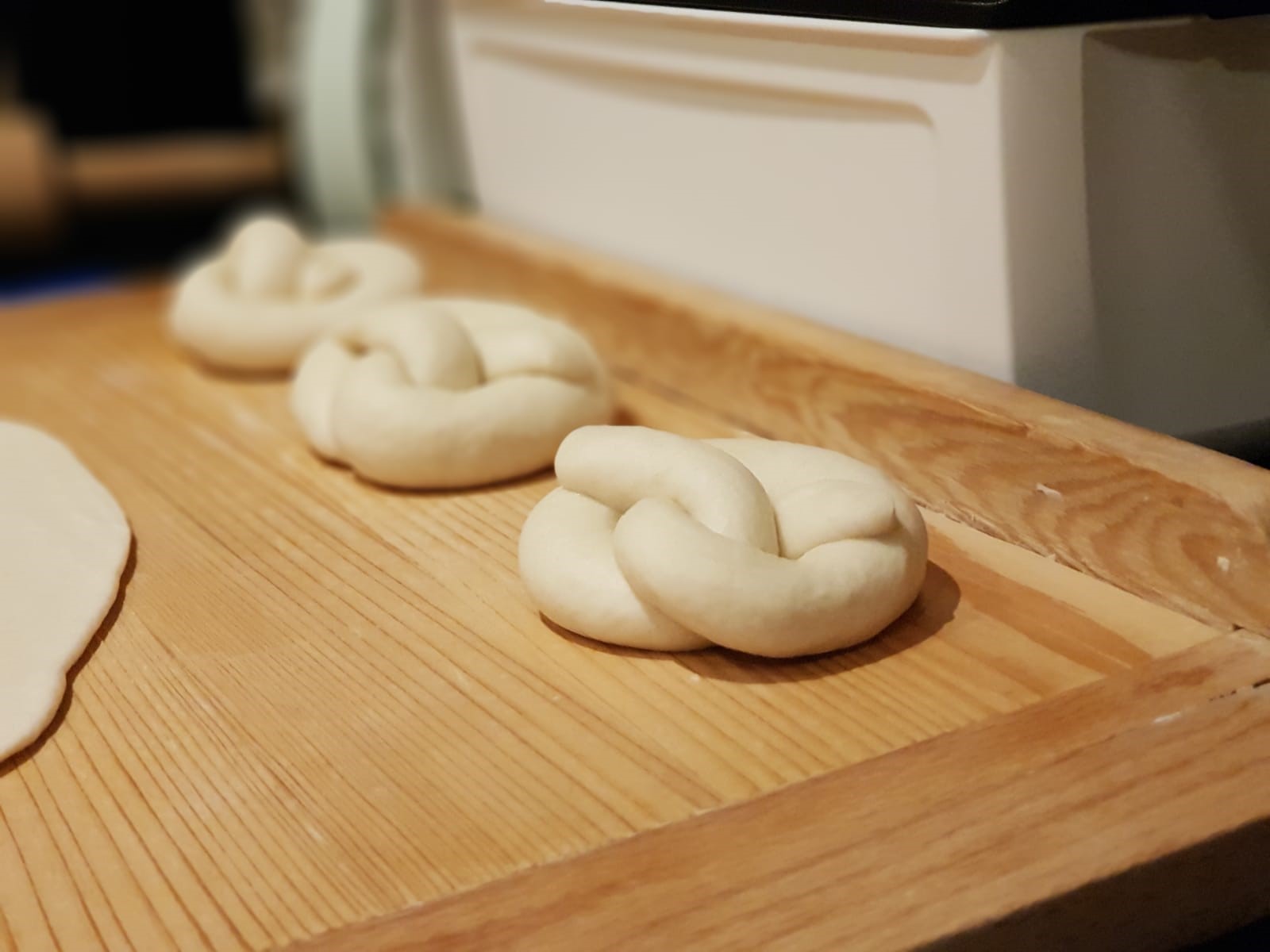 Bend the dough into a U shape and thread the dough as shown in the picture. It doesn't matter if you aren't doing well in the beginning, practice makes perfect and the important thing is that every piece is original. Put each sourdough pretzel on a tray lined with baking paper and let them rise for an hour.
The next stage is to poach the sourdough pretzel.

To poach the sourdough pretzel, pour water into the pot and bring to the boil. Gradually add the soda bicarbonate. Lower the heat and use the perforated ladle to put the pretzels in the bath for 10 to 20 seconds. Pretzels float on the surface so either turn them in the water or dip them a little dipper. Store the bathed pretzels back on their tray and sprinkle them with salt while they are wet. You can score a notch with a razor blade if you wish. I set up my ceramic kamado barbecue for indirect cooking, preheated to 220°C but kept the pizza stone cold and transferred it to the preheated Monolith with the Pretzels and they were then baked for about 13 -18 minutes.
Lift the lid occasionally to see how they are progressing.

See Also:-

Bread Baking
Kamado Cooking
Monolith Kamado Review
Big Green Egg Review

Return Home from Sourdough Pretzel Recipe Baked On The Kamado BBQ Grill