Kamado Sticky Toffee Pudding

By Jon Davies
This award winning recipe for Sticky Toffee Pudding is just about as close to heaven as you can get for anyone with a sweet tooth.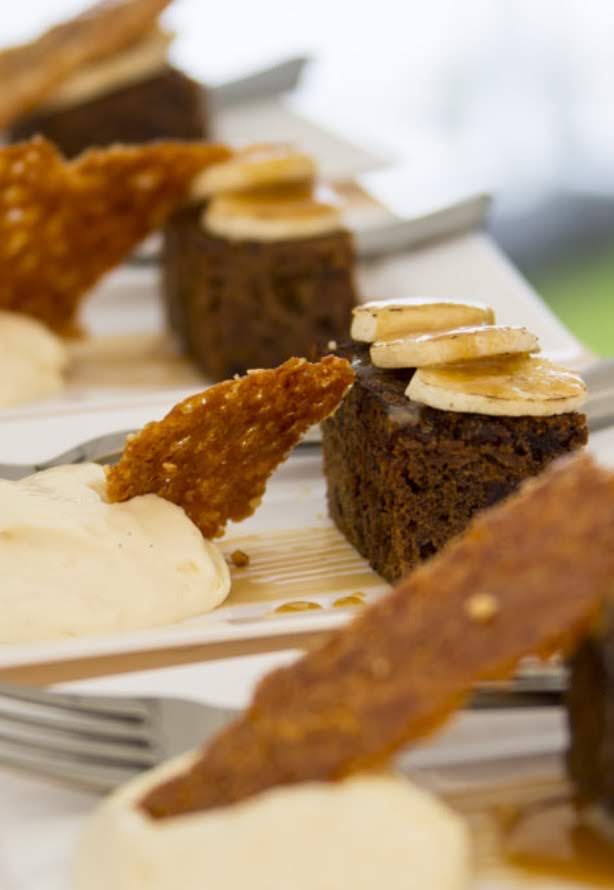 This truly is a melt in your mouth, explosive multi-sensory experience, and the smoky hint as a result of cooking on the Monolith kamado, gives it the ultimate perfect finish.
This piece of culinary genius (as described by my daughters) came about when I needed to find a world-beating recipe for Grillstock in Walthamstow 'Chef's Choice' category back in 2015.
That year, 'Chef's Choice' was sponsored by Jack Daniels, and the rules were…..guess what? Create anything incorporating Jack Daniels! (which sounded great to me)
You couldn't get much more novel than BBQ'd Sticky Toffee Pudding, a desert loved by my kids. So after trying it on the Monolith at home, and making a few adjustments, and then seeing the effect it had on people, I knew I was on to a winner.
I was right, this Sticky Toffee Pudding took me on a trip all the way to Tennessee, courtesy of Mr JD himself!
The recipe is quite long but can be reduced by using store bought ice cream of your choice and not make the brittle, but believe if you make the effort this is a sublime kamado Sticky Toffee Pudding!

Serves:- 6 people

Preparation Time:- 1-2 hours
Cooking Time:- 10-40 minutes (depending on size of tin)

Total Time:- 2 hour 40 minutes
Allergen:-
Ingredients:-
Sticky Toffee Pudding Ingredients
1  1/16 Cups or 250ml Honey Jack Daniels

1 vanilla pod, split in half and the seeds scraped out

2 Cups or 250g chopped dates

½ Cup or 125g butter, softened, plus extra for greasing

½ Cup or 125g soft dark brown sugar

3 free-range eggs

1 1/8 Cups or 150g plain flour, plus extra for dusting

2 teaspoons bicarbonate of soda

2 bananas, peeled and thinly sliced

Demerara sugar, for dusting
Jack Daniels Ice-cream ingredients
Need an Ice Cream machine or use store bought Vanilla Ice Cream

3 Egg Yolks

1/3 Cup or 75g Caster

1  1/16 Cups or 250ml Milk

1  1/16 Cups or 250ml Double Cream

5 Tablespoons or 80ml Honey Jack Daniels

1 Vanilla Pod
Toffee Sauce ingredients
Honey Jack Daniels to taste

¾ Cup or 175g demerara sugar

1 tablespoon golden syrup

1 tablespoon black treacle

¾ Cup or 170g butter

2 Cups or 500ml double cream

pinch salt
Pecan Nut Brittle Ingredients
1 Cup or

100g Pecan Nuts

½ Cup or

100g Caster Sugar
Method:-
Pudding Preparation method
In a pan bring the Jack Daniels and the vanilla pod to the boil. Place the dates in a bowl, pour the liquid over the dates and leave to soak for an hour.
Preheat the Monolith Kamado to 180°C/350°F and insert your heat deflector stones. Line 6x Small loaf tins with parchment paper (can do it in a large loaf tin).
Cream the butter and the soft dark brown sugar with an electric hand-whisk in a bowl. Add the eggs one at a time, beating between each addition. Sift in the flour and bicarbonate of soda. Mix and then fold in the date and Jack Daniels mixture.
Spoon the mixture into the prepared loaf tins and bake for 12-15 minutes (longer if using a large tin), or until just firm to the touch (a skewer inserted into the middle should come out clean).
Once cooked, remove from the oven and place on a wire rack to cool slightly.
Ice Cream Preparation method
Heat milk, cream, Jack Daniels and vanilla.
Whisk eggs and caster sugar. Pour milk slowly onto eggs then back on heat 83°C.
Pass through a sieve and churn in ice cream machine.
Transfer to freezer until needed.
Toffee Sauce Preparation method
Put the sugar, syrup, treacle and butter into a pan and bring to the boil on direct heat.
Move to a safe zone (cooler area of the grill) and cook, without stirring, until all the sugar crystals have dissolved and you have a deep-brown caramel.
Meanwhile, gently warm the cream and Jack Daniels in a saucepan.
Remove the caramel from the heat and carefully add one-third of the cream. Once the bubbling has subsided, whisk in the remaining cream.
Add a pinch of salt and pass through a fine sieve.
Set aside until needed. If cold, then gently warm.
Pecan Nut Brittle Method
Place sugar in a pan and gently heat.
Leave the sugar to melt, it will turn a silvery colour but do not touch or stir. When it is a dark mahogany colour take off the heat and stir in the pecan nuts.
Pour mixture onto a parchment lined tray and leave to cool.
When cold, break up with hands and place into a blender. Pulse until a bread crumb like mixture.
Place a thin mixture (setting aside a couple of tablespoons of mixture for plating) onto a parchment lined tray and transfer to Monolith Kamado for 6-8mins.
Take out and allow to set.
Break into shards.
Bringing the Stick Toffee Pudding together
Thinly slice Bananas and place on top of Pudding.

Sprinkle some Demerara sugar on top of the Bananas and using a blow torch melt the sugar.

Transfer the Pudding to a plate.

Place a small pile of brittle crumb mixture to the side of the pudding.

Place a scoop of ice cream on the crumb mixture (this will stop the ice cream from sliding)

Insert the shard of Pecan Brittle into the ice cream

Serve and enjoy!
Sticky Toffee Pudding Facts Or Fiction?

Francis Coulson developed and served sticky toffee pudding at his Sharrow Bay Country House Hotel in the English Lake District in the 1970s.
Food critic Simon Hopkinson claimed that Coulson told him he got the recipe from a Patricia Martin of Claughton in Lancashire. Then again, the Sharrow Bay website states that Coulson's recipes was inspired by a pudding prepared by Canadian RAF pilots using maple syrup.
Funnily enough Coulson's recipe only differs from Martin's in the sauce. Patricia Martin's son later told Hopkinson that she had originally got the recipe from two Canadian air force officers who had lodged at her hotel during the Second World War. Well at least we can all seem able to agree that there's a Canadian influence in there somewhere!

See Also:-
Barbecue Desserts
Kamado Cooking


Return to Gas Grill Recipes from Kamado Sticky Toffee Pudding