The Ultimate Drum Smoker Is Far From Ugly
The Ultimate Drum Smoker is not to be confused with the Ugly Drum Smoker because to do so would be to completely undervalue the thought and design that has gone into this piece of kit.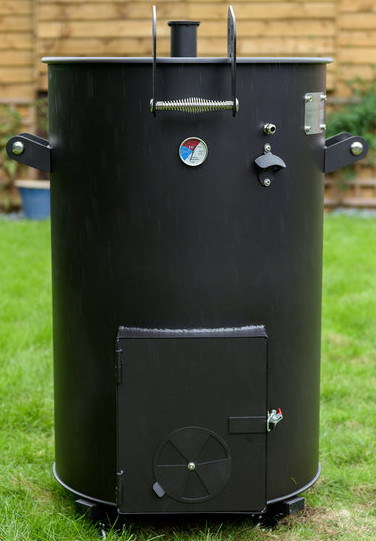 Star Rating
★★★★☆ - "But it's an oil drum" I hear you say. And you'd be right but while it shares the shape and it's clearly derived from an oil drum, to compare it to a standard ugly drum smoker however would be like comparing chalk and cheese.
Born out of competition BBQ this unit takes drum barbecue to a new level of sophistication.
Competition teams use these drums in large numbers because they can give good thermal stability and quicker cook times on the low and slow cuts because the food sits directly over the heat (compared to an offset smoker).
This review is for the door drum smoker which retails at £680.

Assembly
Your Ultimate Drum Smoker is supplied fully assembled so all you need do is season it and fire it up.
The drum sits on four casters the front two of which are locking.

Note: Pallet delivery can be arranged for these units in the UK and mainland Europe only. 

Build Quality
The Ultimate Drum Smoker is designed and hand built in the UK, this is not just a converted second hand oil drum.
The shell of the drum is specially built using 1.2mm thick steel which is 50% thicker than a standard food grade drum which contributes in part to the excellent thermal stability of the smoker.
Joint sealant used is good to 1200°C (2,190°F) and the high temperature black powder coating is rated to 750°C (1,380°F).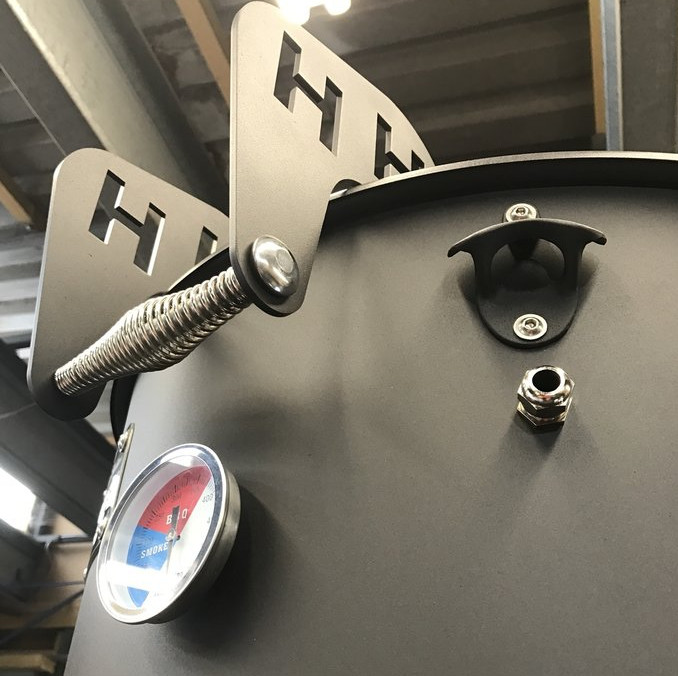 Note: All the custom parts are installed prior to powder coating to ensure that nothing that may rust is left open to the elements.

This level of build quality promotes longevity, realistically it won't rust but it does come at a cost and clearly this drum smoker is more expensive than other smokers of similar shape.

Features
The internal design (and set up for smoking) is a fire basket in the bottom, a heavy duty 0.6mm laser cut heat deflector plate above and two 530mm (21") diameter cooking grates above that. 

The Ultimate Drum Smoker features a convenient front door to the firebox with an adjustable damper. The door allows access to the fire basket without disturbing the food above which is handy for adding wood chips and makes cleaning a breeze. To be fair, one 6kg bag of briquettes will keep the fire going for 12 hours (15 hours with heat beads) so the chances of you needing to access the fire basket to top up the coals during a cook are pretty slim. Where it does come into it's own is cleaning and if you've ever tried to clean a drum smoker with access solely through the top then you'll appreciate the door.
The lid also features an off centre flue with internal smoke diffuser which helps ensure even heat distribution throughout the drum.

Note: There is a "competition version" of the Ultimate Drum Smoker that features a vertical pipe air inlet. This prevents even the smallest of temperature spikes due to changes in wind direction. Probably too over the top for the everyday patio griller but the hard core purists will love it.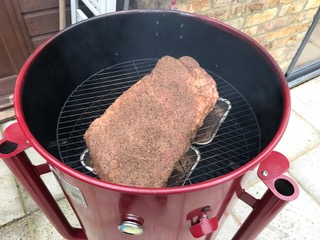 We cooked on the competition Ultimate Drum Smoker and the results were excellent
Food is cooked on two cooking grates 100mm (4") apart big enough to cook three spatchcocked chickens or 3 pork butts on each grate.
The set up for smoking is as I described above with the 2 cooking grates sitting above the heat deflector plate. Should you wish to grill then all you need to do is remove the fire basket from the firebox and place it directly on the heat deflector plate via the open lid (as shown below).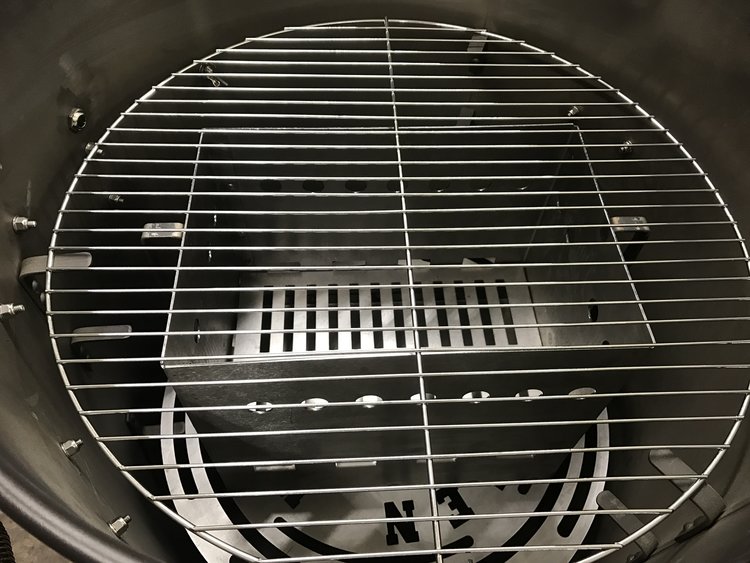 You can then insert your cooking grate and start cooking.
It's a minor niggle but it would be nice if there were a grill grate lifter included in the standard price. The again, there are plenty made by others at low cost so why re-invent the wheel?
It follows on from the above, you're buying from an independent manufacturer so whilst you'll get excellent after sales service, don't expect the back up that you would get from a larger brand such as a wide range of accessories.

Innovation
There's a blanked off nipple which provides an optional airflow into the firebox, this is specifically for those that want to use a BBQ Guru.
The latest developments also include a stainless steel compression gland through which you can thread temperature probes for your remote thermometer.

Specification
570mm (22½") diameter x 890mm (2' 11") high
2 x 530mm (21") cooking grates
Hinged lid with open lock
Front door to firebox with adjustable damper

Heavy duty laser cut heat deflector plate
Temperature gauge to front
Beer bottle opener
Colour: black
Warranty: 2 years
Verdict
Build quality and cooking performance alone justify the Ultimate Drum Smoker being included in may best BBQ grills and smokers 2018 review. It's robust, durable and cooks a decent amount of food with consistency.
That said, it's still looks like a drum, albeit a technical drum and is that something you want on your patio? For the seasoned enthusiast maybe this is "the thing" to be seen with.