Grilled Chicken Marinade Turkish Style
This Turkish style grilled chicken marinade recipe has yogurt as its base and generally that means that the best results will be achieved with as long a marinade as possible. For me, it's a minimum of 6 hours and if you can, prepare the day before and marinate overnight.
TIP - As you add each piece of chicken, move it around a bit to ensure that it's properly coated. Likewise, give the marinade a stir every hour or so.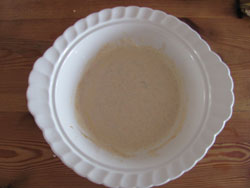 Yield:- 1 cup or 240ml

Preparation Time:- 15 minutes
Marinade Time:- 6 hours
Cooking Time:- n/a

Total Time:- 6 hours 15 minutes

Ingredients:-
8 chicken thighs, bone & skin removed
240ml or 1 cup plain yogurt
Juice of one lemon
2 cloves garlic, crushed
1 inch cube fresh ginger, peeled & crushed to release the juice
2 teaspoons hot paprika
2 teaspoon fresh chopped mint
½ teaspoon salt
Method:-
Start with the ginger because this could get messy! When you've peeleded it, roughly chop it up and then place it in the garlic crusher. Now squeeze (GENTLY!) and get the juice out into your marinade bowl – if you're too vigorous you'll end up with juice all over the kitchen. Discard the dry pulp that's left in the garlic crusher.
Now add all the other ingredients (except for the yogurt), mix thoroughly, then add the yogurt and stir until you have a well mixed marinade.
Now it's time to add your chicken, cover and refrigerate for the first 4 hours then remove it hours prior to grilling. This is just so the meat can get back up to room temperature for cooking. By doing this you ensure a much more even cooking process.
Scrape off any excess yogurt and then throw the chicken pieces onto a nice hot grill! Each thigh will need about 7-8 minutes on each side to cook through.
See Also:-
Thai Spiced Marinade Recipe For Grilled Shrimp
Chicken Tikka Marinade
Ginger And Lime BBQ Marinade
Marinade For Grilled Tuna

Return to Gas Grill Recipes from Grilled Chicken Marinade Turkish Style