Grilled Chicken Marinades Don't Come Any Quicker Than This One
This has to be the quickest of grilled chicken marinades because the chicken doesn't actually have to soak up the marinade. I've put it under the skin of the chicken and that way all the flavors come together during the cooking process.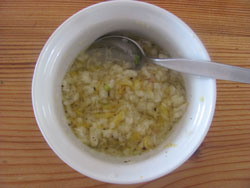 What really sold this marinade to me was not only the flavor but the smell. I cooked the chicken as a spatchcock and so the inside of the bird was grilled first – no big deal, just the normal.
Then I turned the chicken over to grill the skin side and "whoa!" the smoke was so fragrant and packed with garlic it was difficult to wait the 25 minutes to finish it off.
I haven't made a mistake with my mathematics below. There's 10 minutes to prepare the marinade and a further 10 to apply it, that's why I have a total time of 20 minutes.
Yield:- 1 tablespoon

Preparation Time:- 10 minutes
Marinade Time:- n/a
Cooking Time:- n/a

Total Time:- 20 minutes

Ingredients:-
6 cloves garlic
Zest and juice of 1 lemon
1 tablespoon olive oil
Salt and pepper
Method:-
Peel and crush the garlic into a small bowl and add the lemon zest and juice. Now add a tablespoon of olive oil and stir it all up with a teaspoon.
Check this page for how to spatchcock chicken
Get your hands gently under the skin of the bird and separate the skin from the flesh of the breast and legs (you'll struggle to do the wings). Using a spoon, apply the marinade to the flesh under the skin and then replace the skin.
Now you're ready to grill although you can leave the chicken a few minutes to let some of the lemon juice dry off.
Depending on size, a spatchcock chicken will take approximately 20 – 25 minutes on each side.
See Also:-
Grilled Steak Marinade
A Grilled Chicken Marinade Recipe With Less Garlic and More Basil
Wild Game Marinade
Chicken Tikka Marinade
More Barbecue Marinades

Return to Gas Grill Recipes From Grilled Chicken Marinades