Indian Naan Bread Recipe
This naan bread recipe makes the perfect accompaniment to any Indian dish and I particularly like it with Tandoori Chicken but you can just use it to dip in some Raita.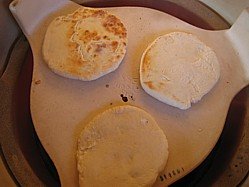 It's become fairly standard to serve naan with Indian food however the origins of naan are Persian (what we now call Iran) and really the word is generic for any type of flatbread.
There are more well defined flatbreads such as pita in Greek and turkish cuisine as well as chapatti in Indian and Bangladeshi cuisine and with these and many other exceptions, naan would appear to be a "catch all". That said, it's still a great accompaniment to many a meal and perfect for cooking on the barbecue.
I've chosen to cook mine on the ceramic heat deflector in my kamado but you can use a pizza stone or just cook them directly on the cooking grate.
Serves:- 6 people

Preparation Time:- 15 minutes
Rising Time:- 2-3 hours
Cooking Time:- 10 minutes

Total Time:- 3 hours 30 minutes

Ingredients:-
350 grams or 3 cups plain flour
50g or 2oz butter
1 teaspoon dried yeast
2 teaspoons sugar
1 level teaspoon salt
75ml or 5 tablespoons yogurt (at room temperature)
125ml or 1 cup warm milk
Method:-
Mix the butter into the flour with your finger tips, add the sugar, salt and dried yeast and pour in the warm milk. Kneed well and then gently add the yogurt, continue to kneed until the dough has formed well.
You'll know when you've reached this stage because the bowl will be clean. If the consistency is too wet then add a little flour and if too dry, add a small amount of milk.
Cover the bowl with strech wrap and put the dough aside in a warmish environment for 2-3 hours. After it has risen, knock it back by kneeding again for 2-3 minutes and then leave until ready to use.
Get your kamado up to about 480°F or 250°C and when ready, divide into six portions and roll out, stretching as appropriate to make the traditional Indian triangular shape of a naan.
Cook for 10 minutes (turn them over after 5 minutes) and you'll have the perfect home made bread to accompany your curry or kebab.
Note
If cooking directly you will need a high heat and also more turning of the bread to avoid burning. Turn them over every 1-2 minutes and you'll have some great tasting naan bread.
Related Pages:-
Tandoori Chicken

Chicken Tikka

Cucumber Raita

Spicy Indian Marinade

How To Bake Bread In A Big Green Egg
Return to Easy Barbecue Recipes from Indian Naan Bread recipe